Property Details


Recognized as one of the most private properties with one of the largest and well maintained gardens on this new 5* resort.

The villa has been furnished to an exceptionally high standard as the owner's home including new for 2006 the following renovations: A state of the art kitchen with top of the range cabinets, stainless steel appliances and high quality Portuguese marble counter tops, a fully renovated master bathroom with twin basins and granite counter tops and newly installed central heating thoughout.
Pine forests offering seclusion as well as all day sun surround it. The villa benefits from a large swimming pool and is built with all bedrooms opening out onto the spacious entertainment area boarding the pool.


Area Details


The resort of Praia D'El Rey Golf and Country Club is a beachfront resort near the historic town of Obidos and fishing port of Peniche, which is less than one hours drive from Lisbon International Airport.
The resort consists of 600 acres whose landscape is as richly varied as the surrounding countryside.
The resort is situated on a golf course (which is rated no 13 in Europe and no 2 in Portugal) with a full golf academy and tennis courts. The local lagoon is suitable for jet skiing and other water sports. Local horse riding can also be arranged.
The villa is near the clubhouse where there is a full restaurant/bar and there are two shops within the resort. Marriott's 5* resort opened in December 2003 within the resort which has three restaurants and bars to choose from.
The resort also offers 24 hour security.


Travel Details


There is no public transport - it is essential to have a car.

Gallery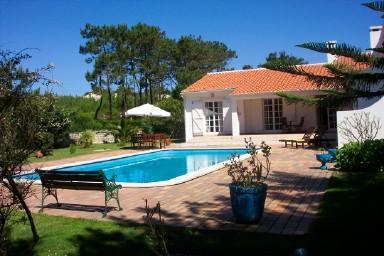 Location


Praia D'El Rey Golf & Country Club,Obidos,2510,Portugal

Pricing details



The following rates are per Week
The rates are per villa
From
Upto
&nbsp
Charging Rate
&nbsp
British Pounds
US Dollars
Euros
26 May 2006
01 Jul 2006
1100
1441
1287
02 Jul 2006
02 Sep 2006
1350
1768
1580
02 Sep 2006
20 Oct 2006
1100
1441
1287
20 Oct 2006
29 Oct 2006
1350
1768
1580
16 Dec 2006
06 Jan 2007
1200
1572
1404
06 Jan 2007
30 Mar 2007
1000
1310
1170
30 Mar 2007
14 Apr 2007
1150
1506
1346



Price Includes:-

Electricity, gas, water, VAT, linen, towels, cleaning after departure.



Price Excludes:-

Cleaning during the rental period, but this service can be arranged at an additional charge.
Availability Details

<-- For Full Detailed Calendar with Larger Text click the image
Last Updated on 2006-Jul-16
December, 2022
Su
Mo
Tu
We
Th
Fr
Sa
1
2
3
4
5
6
7
8
9
10
11
12
13
14
15
16
17
18
19
20
21
22
23
24
25
26
27
28
29
30
31

January, 2023
Su
Mo
Tu
We
Th
Fr
Sa
1
2
3
4
5
6
7
8
9
10
11
12
13
14
15
16
17
18
19
20
21
22
23
24
25
26
27
28
29
30
31

February, 2023
Su
Mo
Tu
We
Th
Fr
Sa
1
2
3
4
5
6
7
8
9
10
11
12
13
14
15
16
17
18
19
20
21
22
23
24
25
26
27
28

March, 2023
Su
Mo
Tu
We
Th
Fr
Sa
1
2
3
4
5
6
7
8
9
10
11
12
13
14
15
16
17
18
19
20
21
22
23
24
25
26
27
28
29
30
31
April, 2023
Su
Mo
Tu
We
Th
Fr
Sa
1
2
3
4
5
6
7
8
9
10
11
12
13
14
15
16
17
18
19
20
21
22
23
24
25
26
27
28
29
30

May, 2023
Su
Mo
Tu
We
Th
Fr
Sa
1
2
3
4
5
6
7
8
9
10
11
12
13
14
15
16
17
18
19
20
21
22
23
24
25
26
27
28
29
30
31

June, 2023
Su
Mo
Tu
We
Th
Fr
Sa
1
2
3
4
5
6
7
8
9
10
11
12
13
14
15
16
17
18
19
20
21
22
23
24
25
26
27
28
29
30

July, 2023
Su
Mo
Tu
We
Th
Fr
Sa
1
2
3
4
5
6
7
8
9
10
11
12
13
14
15
16
17
18
19
20
21
22
23
24
25
26
27
28
29
30
31
Contact Details - Preferred option listed first



Note: Disclaimer
For Rental Enquiries - Email the owner.. Click here. (NB. You need to have popups enabled to use this)
Tel No. Martin Garland at 1.703.669.2606 in United States - Please Quote Reference:Villa Vacations -7818
Languages spoken: English
They normally prefer email but their email address is currently out of action.
Fax No. 1.703.669.2268 in United States
Features


Dishwasher
DVD Player
Private Swimming Pool
Satellite or Cable Television
Stereo System
Television
Washing Machine



Activities


Activity - Tennis, Golf, Pools
Culture - Museums, Historic Sites
Outdoor Activities - Walks, Lakes, Woods
Seaside - Close to beaches



Restrictions


No Pets



Owner's Links



Praia D\'El Rey Golf and Country Club
Local town of Obidos
End of Links
---