Property Details


A rendez-vous for nature lovers at 50 minutes from Quebec city.
Summer and winter alike, the great outdoors is an endless source of pleasure, a restful haven of tranquillity that's yours to enjoy amidst the beautiful natural surroundings of our little corner of paradise. More than 26 cottages now!


Area Details


Portneuf: Yours to discover
Located on a huge tract of land in the heart of beautiful Portneuf, the cottages provide access to a vast network of forest trails and miles of river. Portneuf is a favorite vacation spot, with fine country dining and countless tourist attractions - a must for visitors all year round. More than 26 cottages now!
Gallery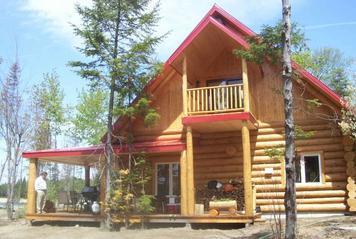 Location
The marker is a close indicator to the property location.
| | |
| --- | --- |
| Powered by google maps. Google maps of rental properties needs Javascript enabled | Overview google map. |
Click on the map below for a larger map of the area


Ste-Christine D'Auvergne,Quebec,G0A 1A0,Canada

Pricing details



The following rates are per Week
From
Upto
&nbsp
Charging Rate
&nbsp
US Dollars
British Pounds
Euros
01 Jan 2012
15 Mar 2012
1535
1228
1375
16 Mar 2012
19 Jun 2012
1275
1020
1142
20 Jun 2012
09 Sep 2012
1535
1228
1375
10 Sep 2012
30 Sep 2012
1275
1020
1142
Availability Details

<-- For Full Detailed Calendar with Larger Text click the image
Last Updated on 2005-Jun-24
July, 2019
Su
Mo
Tu
We
Th
Fr
Sa
1
2
3
4
5
6
7
8
9
10
11
12
13
14
15
16
17
18
19
20
21
22
23
24
25
26
27
28
29
30
31

August, 2019
Su
Mo
Tu
We
Th
Fr
Sa
1
2
3
4
5
6
7
8
9
10
11
12
13
14
15
16
17
18
19
20
21
22
23
24
25
26
27
28
29
30
31

September, 2019
Su
Mo
Tu
We
Th
Fr
Sa
1
2
3
4
5
6
7
8
9
10
11
12
13
14
15
16
17
18
19
20
21
22
23
24
25
26
27
28
29
30

October, 2019
Su
Mo
Tu
We
Th
Fr
Sa
1
2
3
4
5
6
7
8
9
10
11
12
13
14
15
16
17
18
19
20
21
22
23
24
25
26
27
28
29
30
31
November, 2019
Su
Mo
Tu
We
Th
Fr
Sa
1
2
3
4
5
6
7
8
9
10
11
12
13
14
15
16
17
18
19
20
21
22
23
24
25
26
27
28
29
30

December, 2019
Su
Mo
Tu
We
Th
Fr
Sa
1
2
3
4
5
6
7
8
9
10
11
12
13
14
15
16
17
18
19
20
21
22
23
24
25
26
27
28
29
30
31

January, 2020
Su
Mo
Tu
We
Th
Fr
Sa
1
2
3
4
5
6
7
8
9
10
11
12
13
14
15
16
17
18
19
20
21
22
23
24
25
26
27
28
29
30
31

February, 2020
Su
Mo
Tu
We
Th
Fr
Sa
1
2
3
4
5
6
7
8
9
10
11
12
13
14
15
16
17
18
19
20
21
22
23
24
25
26
27
28
29
Contact Details - Preferred option listed first



Note: Disclaimer
For Rental Enquiries - Email the owner.. Click here. (NB. You need to have popups enabled to use this)
Tel No. Celine Breton at 1-418-329-1233 in Canada - Please Quote Reference:Villa Vacations -8038
Languages spoken: French, English.
Between 8 and 16 in Canada time
Fax No. 1-418-329-3488 in Canada
Features


Boat Available
Dishwasher
DVD Player
Satellite or Cable Television
Television
Video Cassette Recorder
Washing Machine



Activities


Night Life, Theatres, Restaurants
Outdoor Activities - Walks, Lakes, Woods
Seaside - Close to beaches
Wilderness - Mountains, River Gorges
Winter Sports



Restrictions


No Smokers



Owner's Links


Click Here for more information about this property
End of Links
---