Property Details


Casa de poble - 300 year-old stone village house in rural setting on Costa Brava in the Alt Ampurdán. Two-storey house sleeps 8+ in 4 large double bedrooms, two bathrooms, large kitchen/dining room spacious living area. Roof level sun room and terrace. Recent restoration combines brick vaulted ceilings and stone walls with modern kitchen and bathrooms. Peaceful, rural village setting (orchards, sunflowers and olive groves). No parking problems, 5 km to beach. Ideal for relaxing, family holidays, bird watching, cycling, and culture.


Area Details


Rural village near the mouth of the Fluviŕ river. Adjacent to Aiguamolls Nature reserve and bird sanctuary. Lots of trails suitable for walking and cycling. Easy access to beaches (Sant Pere Pescador, Sant Marti de Empuries). Romanesque architecture route (12th Century church in village), beautiful villages, Roman ruins at Empuries. Great Catalan restaurants (one of the best local ones in village). Windsurfing, water skiing, kayaking etc all available in area. Dalí museum in Figueres. Four golf courses within easy reach (20-30 mins). Children's fun park (mini golf etc) and swimming pool available in nearby village (1.5 km).


Travel Details


Half hour drive from Girona airport. One hour from Perpignan airport. Approx 2 hours drive from Barcelona airport. Train station (coming from France or Barcelona) 6 km. Daily buses to/from Figueres and La Escala. Car is really necessary except for (serious!) cyclists.

Gallery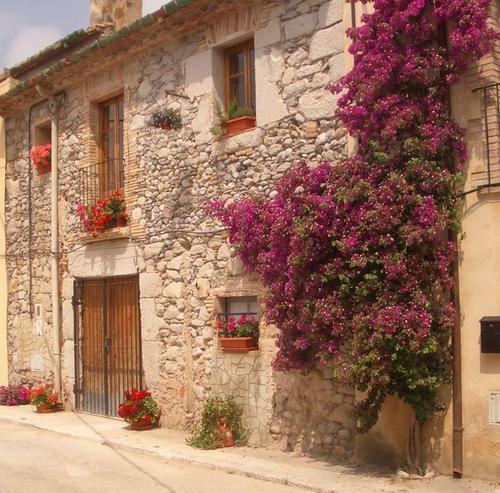 Location
The marker is an accurate indicator of the property location.
| | |
| --- | --- |
| Powered by google maps. Google maps of rental properties needs Javascript enabled | Overview google map. |
Click on the map below for a larger map of the area


Torroella de Fluvia,Girona,17474,Spain

Pricing details



The following rates are per Week
The rates are per House
From
Upto
&nbsp
Charging Rate
&nbsp
Euros
US Dollars
British Pounds
26 Feb 2010
26 Mar 2010
500
560
427
26 Mar 2010
09 Apr 2010
700
784
598
09 Apr 2010
30 Apr 2010
500
560
427
30 Apr 2010
28 May 2010
550
616
470
28 May 2010
25 Jun 2010
600
672
513
25 Jun 2010
27 Aug 2010
900
1008
769
27 Aug 2010
03 Sep 2010
850
952
727
03 Sep 2010
09 Oct 2010
550
616
470



Price Includes:-

Bed linen and towels.



Price Excludes:-

Electricity between November and April



Other Information:-

Minimum one-week stay in mid and high season
Availability Details

<-- For Full Detailed Calendar with Larger Text click the image
Last Updated on 2010-Jan-25
January, 2021
Su
Mo
Tu
We
Th
Fr
Sa
1
2
3
4
5
6
7
8
9
10
11
12
13
14
15
16
17
18
19
20
21
22
23
24
25
26
27
28
29
30
31

February, 2021
Su
Mo
Tu
We
Th
Fr
Sa
1
2
3
4
5
6
7
8
9
10
11
12
13
14
15
16
17
18
19
20
21
22
23
24
25
26
27
28

March, 2021
Su
Mo
Tu
We
Th
Fr
Sa
1
2
3
4
5
6
7
8
9
10
11
12
13
14
15
16
17
18
19
20
21
22
23
24
25
26
27
28
29
30
31

April, 2021
Su
Mo
Tu
We
Th
Fr
Sa
1
2
3
4
5
6
7
8
9
10
11
12
13
14
15
16
17
18
19
20
21
22
23
24
25
26
27
28
29
30
May, 2021
Su
Mo
Tu
We
Th
Fr
Sa
1
2
3
4
5
6
7
8
9
10
11
12
13
14
15
16
17
18
19
20
21
22
23
24
25
26
27
28
29
30
31

June, 2021
Su
Mo
Tu
We
Th
Fr
Sa
1
2
3
4
5
6
7
8
9
10
11
12
13
14
15
16
17
18
19
20
21
22
23
24
25
26
27
28
29
30

July, 2021
Su
Mo
Tu
We
Th
Fr
Sa
1
2
3
4
5
6
7
8
9
10
11
12
13
14
15
16
17
18
19
20
21
22
23
24
25
26
27
28
29
30
31

August, 2021
Su
Mo
Tu
We
Th
Fr
Sa
1
2
3
4
5
6
7
8
9
10
11
12
13
14
15
16
17
18
19
20
21
22
23
24
25
26
27
28
29
30
31
Contact Details - Preferred option listed first



Note: Disclaimer