Property Details


Welcome to Affordable Beach Condos of Treasure Island, designated a Superior Small Lodging.
See http://www.stpeteresorts.com for full listing details.

Affordable Beach Condos is an award winning boutique resort. Winner of the White Gloves Award for Excellence 2005 2006.

We offer One and Two Bedroom UNIQUE THEMED VACATION CONDOMINIUMS all with full kitchens, living rooms, patio and fully equipped ready for you to move in.

Select your best tropical get away accommodation from a choice of one and two bedroom condominiums PLUS a THREE BEDROOM THREE BATHROOM 2400 sq ft EXECUTIVE HOUSE that sleeps 8.

You will be swept away by the charm of Affordable Beach Condos. This island retreat consists of seven unique ground-floor condominiums, plus a private Executive House - where you will escape from civilization.

The two bedroom condominium is done in a Florida Theme of pastel colors and tile floors trimmed in pale tones of mint. The one bedroom condominiums have various themes set from the owners lives, such as the Africa Suite, The Oriental Suite, The Artists Suite etc.

Set amid lush palm trees and gardens with fountains, Affordable Beach Condos offers you complete privacy that enables you to unwind and let the island breezes caress you.
Spend warm sunny days poolside, fish and dophin watch, sunbathe or get your jet-skis in gear.

There is a private patio behind each condo for you to BBQ out. Every condo has luxurious feather beds for you to sink into for a sweet night's rest. The full kitchens offer a full size stove and refrigerator, microwave oven, coffeemaker, and toaster. All linens and appliances are included.

Affordable Beach Condos is in a FANTASTIC LOCATION. Just a short walk to one of the finest, most pristine beaches in Florida. After a hot day in the sun, come home and relax under our enormous shady rubber trees, and refresh in the solar-heated pool. There you'll escape the hustle and bustle of the busy beach in total privacy and quiet.

All the dining, shopping and nighlife is a block or two away.

For the anglers and boaters we have a lovely pier and dock with excellent fishing.

At night there are dozens of beach restaurants awaiting you, as well as music, bars, and shopping.

FREE Wi FI Internet

We welcome well behaved dogs.

Step into the tropics -- book now!

UK TELEPHONE DIRECT UK - 0871 871.2971
Toll Free 1-888-987.2673
DIRECT (727) 363.0800


Area Details


LOCATED ON AMERICAS #1 TOP RATED BEACH.
Treasure Island is a lively community made up of beautiful beaches, a rich nightlife, gorgeous residential communities, and retro architecture reminiscent of the 1950's.

Treasure Island is a close knit community of lively shops, excellent restaurants and lively bars set along one of the finest beaches in the USA. The village center is dominated by a clock tower that plays carillon tunes on the hour ranging from God Save the Queen to Land of Hope and Glory and Mozart.

The Treasure Island Yacht Club offers public golf and tennis and is a short walk from Affordable Beach Condos.
There are literally dozens of golf courses within a ten mile drive.
Scuba Diving, Parasailing, Jet Skiing and Deep Sea Fishing compete with the Casino Boat Dinner Cruises for the visitors attention.

Affordable Beach Condos is one of the few remaining old time charmers of a by-gone era. Lovingly nurtured by its owners and updated it has a feel all its own, like stepping back into a more care free era.

Spa and Retreat Facilities are available. Affordable Beach Condos is designated *A SUPERIOR SMALL LODGINGS RESORT* and is the winner of the Treasure Island Beautification Award - July 2003.
ALSO WINNER OF THE WHITE GLOVES AWARD FOR EXCELLENCE 2005 2006

There are seven charming condominiums clustered around a very private central courtyard lush with jasmine and palm trees. Affordable Beach Condos is perfect for your next function. Plan for an Intimate Wedding Reception, a Family Reunion, a Corporate Retreat or a healing getaway.

SPECIAL SERVICES
By prior arrangement we offer Special Services such as Fresh Flowers, Massage Therapy, Yoga, Breath work, and other relaxation and stress reduction techniques by experienced and licensed professionals.
This is available to individuals as well as to groups.

We are waiting to welcome you to 'Affordable Beach Condos' and our beautiful Treasure Island on the Florida Gulf Coast

AREA ATTRACTIONS. St. Petersburg and Tampa have many fine cultural events. Every month brings a different program. There are world-class symphony concerts, theater, experimental theater, rock concerts, and fine museums including the world-renowned Salvador Dali Museum, the Holocaust Museum, as well as the finest Museum of Science in the Southeast. The thrill rides of Busch Garden Theme Park and Adventure Land are a must and just fourty five minutes away. Do not miss the Seminole Indians Casino, Lowry Park Zoo, Tampa Jai-Alai, Derby Lane Greyhound racing, and horse racing.

DISNEY, UNIVERSAL, EPCOT AND SEA WORLD ARE JUST 90 MINUTES DRIVE FROM AFFORDABLE BEACH CONDOS.
BUSCH GARDENS IS ONLY 45 MINUTES DRIVE FROM AFFORDABLE BEACH CONDOS.

SHOPPING AND DINING. Old historic downtown Tampa is Ybor City. This is the old Cuban cigar-making district that gave the world Tampa Cigars. Today it is reminiscent of New Orleans' French Quarter with its Jazz clubs, Blues bars, rave clubs, taverns, bistros, and boutiques. Rock until you drop is the theme of Ybor City. Downtown St Petersburg is revitalized with loads of character, great dining, coffee shops, and wonderful boutiques. Central Avenue has blocks and blocks of arts and antiques.
Shopping is another treat. Three major malls are within 30 minutes plus a huge Factory Outlet Mall at Ellenton that features major brand name closeouts.

Discover little treasures too in the many small boutiques and cafes around Treasure Island Village and Historic Johns Pass Boardwalk. Dont miss the great sea food!

'Affordable Beach Condos' has it all, for everybody, young and old alike. Like many of our guests, who come back every year, we hope that you will too.

We would love to welcome you!

Jeffrey Solomon & Sharda Collard

OTHER ACTIVITIES IN THE AREA
Golf, Hiking, Biking, Tennis, Fitness Center, Gym, Miniature Golf, Amusement Parks, Fishing, Shopping, Restaurants, Live Theater, Cinemas, Museums, Sightseeing, Swimming, Snorkeling/Diving, Boating, Sailing, Water-skiing, Windsurfing, Parasailing, Jet Skiing, Shelling, Fine Dining, Spa, Roller blading, Casino Boat Cruises, Dog Track, Horse Racing, Busch Gardens, Disney World, Epcot Center, Universal Studios, Fort de Soto Wildlife Preserve, Jazz and Blues Clubs, Pristine Beaches, Major League Sports - Tampa Devil Rays Baseball - Tampa Bay Buccaneers American Football - Tampa Bay Lightning Hockey - Mutiny Soccer - Base Ball Spring Training Camps for the - New York Yankees - Baltimore Orioles - Phoenix Cardinals - Philladelphia Phillies - Montreal Jay Hawks.


Travel Details


There is a wonderful Island trolley that has all day passes. The Trolley takes you 30 miles - all the way from Clearwater in the north to Passe a Grille in the south and you can hop on and off all day.
Take the trolley Island Hopping to hundreds of pristine Gulf Beaches or to the shopping mall and theatres of Old Downtown St Pete.
It stops practically on our doorstep.
Taxis and regular bus service is available as well as Airport Shuttles.

Gallery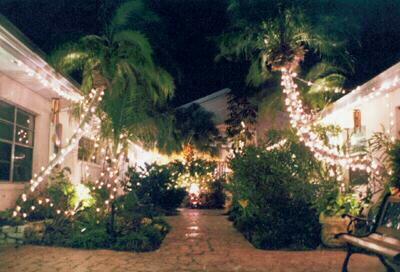 Location
The marker is an accurate indicator of the property location.