Property Details


This cosy villa is within a littoral Nature reserve with pine and eucalyptus woods at a sandy peninsula and at 100 meters from the Atlantic ocean. The property with two independent and twin villas (Villa DonJuan up to 7 persons, 3 bedrooms; Villa LaLaCristina up to 5 persons, 2 bedrooms) has a beautiful sea front with a long and lonely sandy beach with protected dunes where no new building is allowed. Sandy path between the house and the beach and through the pine forest a path for walking/cycling to Isla Cristina town (with play area in route). This villa is in the province of Huelva (Southwest Spain) at 7 km from Portugal.
The main house for up to 7 persons has 125 m2 furnished indoor with three bedrooms (the master double bed room, one twin bedroom and another with three beds), two bathrooms, living-room with two sofa-beds, a fireplace, air condtitioning, TV satellite, video and a CD player, a fully equipped kitchen with washing machine, dishwasher, freezer, fridge, microwave, oven, all domestic appliances, electrical heating system, and a 500 m2 patio (court) with a porch as another living and dining area with fireplace for barbacues, a fountain, several orange and palm trees and a lot of different flowers plants. Upstairs, on the top of the house there is also a 100 m2 terrace, a solarium with beatiful views of the countryside, the woods and dunes.
The second house for up to 5 persons has 100 m2 furnished indoor with two bedrooms (one double bed room and one room with three beds) , one bathroom, a living-room with one sofa-bed, a fireplace, air conditioning, TV satellite, video, CD recorder, electrical heating system, kitchen with dish washer, freezer, fridge, hob, microwave, oven, washing machine, all domestic appliances and a 30 m2 patio (court as another living and dining area with fireplace for barbacues. Upstairs, on the top of the house there is also a 70 m2 terrace,
The whole property is surrounded by a wall for privacity.
Both houses are wired for TV satellite reception providing a number of international channels. For Sky reception you will need to bring appropriate sky card for basic channels or your own digibox and card for your normal sky package.
Additional outdoor facilities
Utility room, beach showers, terrace for eating outside with partial shade, garden, parking. In summer sailing & boating. Local activities: swimming (very nice pools in hotels and resorts nearby), hiking, horse riding, windsurfing, sailing, football, tennis, basketball, golf (facilities in the beach, wood, Isla Cristina town (1 km) and Isla Canela and Isla Antilla resorts golf courses (4 km).


Area Details


This area is 0.5 mille from Christine Island (Isla Cristina in Spanish), a town built on a sandy peninsula and one of the most important fishing manufacturing sites in Southern Spain, 15000 inhabitants, with excellent infrastructure, within the Spanish province of Huelva, see www.terra.es/personal/xilcar. This town is connected by toll-free highways with: 1) the city of Faro (50 km), capital of the cosmopolitan and touristic Algarve (Southern Portugal; www.rtalgarve.pt; www.algarvenet.com), an area with a lot of hystorical towns and internationally well-known beaches resorts such as Lagos, Portimao, Albufeira, 2) the city of Huelva (150000 inhabitants, with every kind of facilities, at 25 mille) 3) the famous and wonderful city of Sevilla (75 mille), capital of Andalucia, 4) the wonderful cities of Cordoba (160 mille) and Granada (230 mille) with beatiful Christian and Moslem monuments like Alhambra (www.sol.com), and skiing facilities in fall, winter and spring at the neighbouring Sierra Nevada (www.andalucia.com/sports/ski.htm).
This villa is on a coast named Costa de la Luz (Coast of Light) and up to now has been little exploited by Spanish and international tourism. It is luminous and mild, having in average more than 3000 hours/year of sun, more than 185 days/year for swimming, the air temperature is 19 C over the year and 26 C in summer.
Any kind of water sports are available and two marinas (Ayamonte and Isla Cristina (www.puertosdeandalucia.com), two casinos and several excelent golf courses (Isla Canela, Isla Antilla) (www.andalucia-golf.com, www.golf-andalucia.net) are within 0-5 km from Isla Cristina. The important and big National Park of Donana with thousands of flamingos, ducks, birds, wild pigs, deers, is only 50 km far away (www.andalucia.com/environment/protect/donana.htm). The theme park Magic Island (Isla Magica) is at the city of Sevilla.
Fishing tours to capture blue marlins, tuna, etc at Isla Cristina, Ayamonte (Spain), Villa Real, Villamoura (Algarve, Portugal). The rich gastronomy of the area is mainly based on wide variety of seafood and pork products such as Iberian ham, sausages (www. andalucia.com/gastronomy/home.htm and www.tienda.com/food/jabugo2.htm).
The Neighborhood
The villa is inside a quiet, lonely and safe residential area with about 10 family houses surrounded by a clean and fine beach and a beatiful landscape of pine and eucalyptus woods within a littoral Nature reserve with plenty of birds, some rabbits and chameleons (the only ones in Spain and maybe in Europe).
Further details
Jacuzzi baths, facials and massages can be booked at the 4* Confortel Hotel 5 min away in Isla Antilla resort.
Open market and supermarkets: Isla Cristina, as an active fishing town, has a market with a great offer of open sea fish which are caught daily. meat, fresh fruit and vegetables can also be bought here. Well supplied supermarkets in town are Consum, Dia, Lidl and Jamon.
Restaurants, cafes and Churrerias: Many restaurants in the area. Specialities are fresh sea fish (tuna, etc), mussels, prawns, obsters, etc and Iberian ham and sausages. Not expensive to dine out. Owners favourites: Beach hut cafe and restaurant at 200 metres along beach and Cacheron, El Estudiante (Extremadura Avenue) and La Gola restaurants at Isla Cristina. Try breakfast of coffe with churros (long pancake sticks) at Gran Via and other cafes in Isla Cristina.
Furthermore, in Isla Antilla resort, Antilla town (3-5 km) there are commercial centers, golf courses, resorts, country clubs, shops, supermarkets, cinemas, restaurants and bars in all prices.
Suitability
The villa is also suitable for elderly. Wheelchair accessible.


Travel Details


Faro (Portugal, at 30 min), Sevilla and Jerez (Spain, at 70 min and 2 hours, respectively) are the closest international airports with car hire facilities and connected with Isla Cristina by toll-free higways. Malaga (Costa del Sol) airport is at 3 hours driving by toll-free higway from Isla Cristina.
Public transport includes express buses to/from Huelva, Sevilla, Madrid, etc, high velocity trains to/from Sevilla, Madrid, etc.

Gallery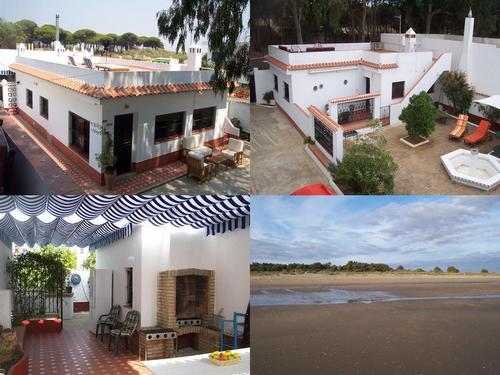 Location
The marker is an accurate indicator of the property location.