Property Details


Villa Rosaspina is a traditional old oak-beamed Umbrian stone villa dating from the early 1700's. Standing on the Hills of Todi, in the Tiber valley natural park, it lies at the centre of one of Italy's areas of greatest historical, artistic, cultural interest and outstanding natural beauty.

The villa is surrounded by olive groves, vineyards and its own woodland with centuries-old oak trees and is a perfect place for those who love privacy. From the large windows you can admire the view of the stream flowing through the valley below.

A spacious air-conditioned sitting room with fireplace has large glass door leading to the lawn. A glass door also leads from the kitchen out to a shady dining veranda with a stone barbeque which lends itself to long al fresco meals with unforgettable views over the Umbrian hills.

A terraced garden with lawns, fruit trees and rockeries surrounds the house and leads up to the pool area, set about 25m/80 feet from the house.

The broad lawn with oleanders leads down towards a paved terracotta terrace with a private large swimming pool, 6x12m/20x40 feet, loungers for sunbathing and a gazebo for reading or siestas in the shade. You can sit under the gazebo by the pool, contemplating the breathtaking views, and share the day's discoveries with your family and friends via the villa's Wi-Fi broadband connection.

The air conditioning throughout the whole house and the anatomical latex mattresses (anti-allergenic) will keep you cool. In addition to the luxurious facilities, including Air-conditioning, Jacuzzi, Wi-Fi, satellite tv, DVD and CD stereo system, Maid service, the property has been tastefully yet comfortably furnished with some beautiful antiques and paintings. The warm and welcoming atmosphere created by the traditional materials and furnishings will make this a truly relaxing holiday.

GROUND FLOOR:
Fully equipped kitchen with dining table leading onto the veranda, cosy sitting room with fireplace, both of which air-conditioned and with mosquito nets; spacious veranda furnished with tables and chairs. One double air-conditioned bedroom with queen size bed (which can be converted into a twin-bedded room) and en suite bathroom with shower suitable for disabled guests. The whole ground floor is wheelchair accessible.

FIRST FLOOR:
Three double air-conditioned bedrooms with queen size beds: 1 double bedroom with en suite bathroom with Jacuzzi bath and shower; 1 double bedroom with en suite bathroom with shower; 1 double bedroom, which can be converted into a twin-bedded room, with en suite bathroom with bath and shower.

ASSISTANCE:
Helpful owner-caretaker in separate house, independent from the villa, to ensure complete privacy for guests.
Garden and lawn maintenance.
Swimming pool maintenance.
Maid service twice a week (Saturday and mid-week).
Weekly change of bed linen, bath linen and swimming towels.

SERVICES UPON REQUEST:
Additional maid service, local cook/chef service, catering, organization of special events.
WEDDING PLANNER available.
Cooking service must be arranged prior to arrival and is subject to the availability of the cook.

FACILITIES:
DSL/Wi-Fi access (outdoor wireless broadband internet access + indoor cable broadband internet access), Air-conditioning in all bedrooms and sitting room and kitchen with thermostatic controls in each room so guests can adjust to their individual needs. Mosquito nets at sitting room and kitchen windows. Stone Fireplace (decorative only), satellite and terrestrial TV, stereo CD/DVD player and radio all Dolby surround. Central heating. Fully-equipped kitchen with dishwasher, refrigerator, freezer, stove, oven, toaster, filter coffee machine and espresso maker, all cooking utensils provided. Stone barbecue. Washing machine, Jacuzzi bath, hair dryer, anti-allergenic mattresses, all linen provided (weekly change), iron and ironing-board, cot, high chair. Private swimming pool 12x6m/20x40 feet furnished with sun-loungers, table and chairs. Gazebo and veranda furnished with dining table and chairs. Gardens, parking area.


Area Details


Villa Rosaspina stands on the Hills of Todi, and lies at the centre, therefore, of one of the areas of greatest historical, artistic, and naturalistic interest in Italy.
Thanks to their central position in Umbria, "The Green Heart of Italy",the finest towns of artistic interest in Italy are within easy reach:

DISTANCES from the VILLA*

*TOWNS: Todi 8km/5miles - Deruta 20km/13miles - Assisi 55km/34miles - Orvieto 35km/22miles - Perugia 40km/25miles - Spoleto 40km/25 - Spello 60km/40miles - Gubbio 70km/45miles - Tuscany Border 50km/30miles - Rome 130km/80miles - Siena 145km/90miles - Florence 190km/118miles - Pisa 260km/160miles - Lucca 270km/168miles - Naples 330km/205miles - Venice 350km/220miles.

*LAKES: Lago di Corbara 10Km/6miles; lago Trasimeno, lago di Bolsena, lago di Piediluco 50Km/30miles.

*AIRPORTS:
Perugia km38/23miles - Roma 150km/93miles - Florence 190km/118miles - Ancona 160km/100miles - Pisa 260km/160miles.
New: for those coming from the UK, there is a direct flight, London Stansted - Perugia S.Egidio, which is at half an hour by car from the villa, the flight is operated by Ryanair.

The landscape is dotted with many picturesque medieval villages, and the people of the area are known for their distinctive cuisine, friendliness and hospitality. Food, wine, and entertainment are the core of Umbria's charm.

TODI
5 miles away from the villa, is the old town of Todi, founded by the Umbrians (some cite the date 2700 BC). Situated in ancient times on the border between the Etruscan and Umbrian territories, not far from Rome and Florence, Todi has been defined as the most livable town on earth, the 'ideal town' by research of the University of Kentucky for its size, its climate, its hilltop location and for its harmonious relationship to its surroundings. A striking artistic centre in a magnificent position dominating the Tiber valley, celebrated for its Roman and Etruscan remains, for its palaces, its churches and its atmospheric medieval environment. Picturesque winding streets, stone buildings, medieval wells, arches, sudden ascents and descents that create various perspectives and dramatic views of faraway valleys, hills and mountains all contribute to Todi's unique appeal.
Todi attractions
In the centre of town is the long rectangular Piazza del Popolo, one of the most beautiful squares in Italy, onto which face the Palazzo dei Priori, Palazzo del Popolo and Palazzo del Capitano all originally 13th cent. civic buildings and the 11th-12th cent. Duomo. The Temple of S.M. della Consolazione (16th-17th cent), built to a plan by Bramante is one of Italy's finest Renaissance Churches. The newly restored Museo Civico e Pinacoteca houses important pieces ranging from rare Etruscan coins to 16th c. Italian paintings. In Todi one can find many cultural events and exhibitions. The annual Todi Festival hosts avant-garde music, dance and film productions. An antiques fair takes place every spring. Many celebrated artists and artisans live and have their studios in Todi. The town is rich in art galleries, craft-shops (ceramic, carving), antiques dealers and restorers. You can enjoy the world-renowned Umbrian cuisine in traditional restaurants & food shops: truffles, wines, olive oils.

ACTIVITIES:

On site: Hiking, Swimming, Wildlife and bird watching.

In Todi 8km/5 miles: Sightseeing, Museums, Live Theatre, Shopping, Restaurants, Cinemas, Tennis court, Horse riding, Fitness Centre, Gym, Bike rental. Golf near Perugia 50km/30miles


Travel Details


A car is necessary
train and bus station in Todi(5 miles from the villa).
Local airport in Perugia(30 Miles from the villa),with car rentals, connected to the international airport of Milan Malpensa. For those coming from the UK, there is a direct flight, London Stansted- Perugia S.Egidio, the flight is operated by Ryanair.

International airports: Rome 93miles from the villa -Florence 118miles -Pisa 160miles.

Gallery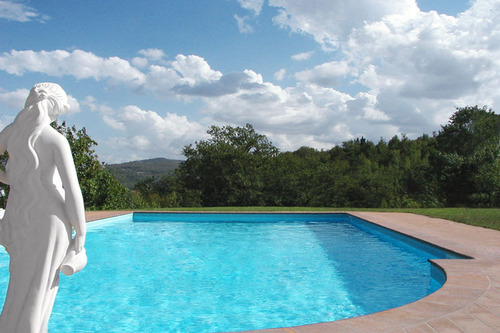 Location
The marker is an accurate indicator of the property location.