Property Details


Historic Grade 11 listed stone built cottage. Recently restored and furnished with antiques, including a carved 4 poster bed. Owner maintained. Idyllic peaceful setting, ideal for bird watchers, nature lovers, gardening enthusiasts and hikers. Access to river and mill-pond so toddlers beware! Within walking distance of course fishing and within easy reach of a wide range of attractions. 11 golf courses within 5 miles.


Area Details


Within a small hamlet dating from 17th century and the site of the first water powered mill. Remote and secluded in a sheltered, wooded valley. Free access to roam woodland and nearby moors.


Travel Details


Trans Pennine railway within 25 minutes walking distance. M62 5 minutes by car. Manchester airport within 1 hour by car.
Gallery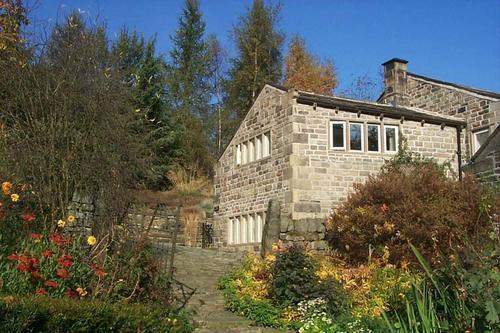 Location
The marker is only an estimate of the location based on town/region. Ask owner for more details
| | |
| --- | --- |
| Powered by google maps. Google maps of rental properties needs Javascript enabled | Overview google map. |
Click on the map below for a larger map of the area


Near Slaithwaite,West Yorkshire,HD7 5UZ,United Kingdom

Pricing details



The following rates are per Week
The rates are per house
From
Upto
&nbsp
Charging Rate
&nbsp
British Pounds
US Dollars
Euros
16 Apr 2004
28 May 2004
330
432
386
28 May 2004
02 Jul 2004
430
563
503
02 Jul 2004
03 Sep 2004
590
773
690
03 Sep 2004
24 Sep 2004
430
563
503
24 Sep 2004
22 Oct 2004
330
432
386
22 Oct 2004
29 Oct 2004
539
706
631
29 Oct 2004
17 Dec 2004
330
432
386
17 Dec 2004
07 Jan 2005
590
773
690
07 Jan 2005
11 Feb 2005
330
432
386
11 Feb 2005
25 Feb 2005
430
563
503
25 Feb 2005
18 Mar 2005
330
432
386
18 Mar 2005
25 Mar 2005
348
456
407
25 Mar 2005
01 Apr 2005
434
569
508
01 Apr 2005
08 Apr 2005
348
456
407
08 Apr 2005
29 Apr 2005
309
405
362
29 Apr 2005
13 May 2005
344
451
402
13 May 2005
27 May 2005
362
474
424



Price Includes:-

Electricity, logs, linen, towels



Price Excludes:-

Breakages, damage, cleaning



Other Information:-

Add £20 per pet per week or short break, during off-season reduced rates for short breaks and 25% reduction for 2 persons
Availability Details

<-- For Full Detailed Calendar with Larger Text click the image
Last Updated on 2005-Aug-14
August, 2020
Su
Mo
Tu
We
Th
Fr
Sa
1
2
3
4
5
6
7
8
9
10
11
12
13
14
15
16
17
18
19
20
21
22
23
24
25
26
27
28
29
30
31

September, 2020
Su
Mo
Tu
We
Th
Fr
Sa
1
2
3
4
5
6
7
8
9
10
11
12
13
14
15
16
17
18
19
20
21
22
23
24
25
26
27
28
29
30

October, 2020
Su
Mo
Tu
We
Th
Fr
Sa
1
2
3
4
5
6
7
8
9
10
11
12
13
14
15
16
17
18
19
20
21
22
23
24
25
26
27
28
29
30
31

November, 2020
Su
Mo
Tu
We
Th
Fr
Sa
1
2
3
4
5
6
7
8
9
10
11
12
13
14
15
16
17
18
19
20
21
22
23
24
25
26
27
28
29
30
December, 2020
Su
Mo
Tu
We
Th
Fr
Sa
1
2
3
4
5
6
7
8
9
10
11
12
13
14
15
16
17
18
19
20
21
22
23
24
25
26
27
28
29
30
31

January, 2021
Su
Mo
Tu
We
Th
Fr
Sa
1
2
3
4
5
6
7
8
9
10
11
12
13
14
15
16
17
18
19
20
21
22
23
24
25
26
27
28
29
30
31

February, 2021
Su
Mo
Tu
We
Th
Fr
Sa
1
2
3
4
5
6
7
8
9
10
11
12
13
14
15
16
17
18
19
20
21
22
23
24
25
26
27
28

March, 2021
Su
Mo
Tu
We
Th
Fr
Sa
1
2
3
4
5
6
7
8
9
10
11
12
13
14
15
16
17
18
19
20
21
22
23
24
25
26
27
28
29
30
31
Contact Details - Preferred option listed first



Note: Disclaimer
For Rental Enquiries - Email the owner.. Click here. (NB. You need to have popups enabled to use this)
Tel No. Victoria Berryman at 01484 841010 in United Kingdom - Please Quote Reference:Villa Vacations -8521
Languages spoken: English
By Post to: Victoria Berryman, Tyas House, Merrydale,, Slaithwaite,, Huddersfield, West Yorkshire, HD7 5UZ,United Kingdom
Features


Dishwasher
Television
Video Cassette Recorder
Washing Machine



Activities


Activity - Tennis, Golf, Pools
Culture - Museums, Historic Sites
Night Life, Theatres, Restaurants
Outdoor Activities - Walks, Lakes, Woods
Wilderness - Mountains, River Gorges



Restrictions


No Smokers



Owner's Links


Click Here for more information about this property
The National Museum of Film and Photography
Royal Armouries, Leeds
Eureka Childrens\' Museum
Liebeskind\'s new building, The Imperial War Museum.
End of Links
---