Property Details


6 BEDROOM PLUS 6 BATHROOM TROPICAL PARADISE WITH 2 POOLS AND CASCADE.
Beautiful home located at Las Brisas one of the most exclusive and beautiful residential areas in the world. With 6 bedrooms (all with fan and air conditioning), 6 full bathrooms, 2 pools, small island with palm trees, artificial cascade, large palm palapa for suppers and bbq's (with capacity to sit 14 adults), smaller palapa for snacks, wet bar, enormeous social area, dinning room, breakfast room, impressive views of the bay, quadraphonic musical equipment, TV, VCR, phone, full size fridge, magnificent decoration, full staff included with rate consisting as follows: Excellent cook able to prepare the best Mexican and International dishes for your delight and also available to buy your food for your comfort, English speaking waiter, kind and resourcefull (he will bring you MARGARITAS to the pools) as well as a nice and efficent maid (she will bring towels to the pools and even wash your clothes in an emergency). They all pay attention to your minimum desire from 8.00 A.M. until really late. You also have admittance to the elegant LAS BRISAS tennis club, where you have an expert English speaking doctor available for you, while in all the area you admire exhuberant flora like Mango tree, Banana tree, Coconut palm, Royal palm, Traveller palm, Ahuehuete tree and the sacred Ceiva tree, this last ones with hundred of years of longevity.

You also find exotic species like Iguanas, Armadillos, Squirrels, Crabs, Quijas (small translucid reptiles endemic of the State of Guerrero) and racoons, as well as the most beautifull birds, like Parrots, Hurons, Cardinals, Buzzards, etc.

You also are inside a gated community, with one of the best secuirity and urban service standards in the world.

Description of bedrooms:

€ Each bedroom and the studio/bedroom have their own private full bath wardrobe, air conditioning and fan.
€ 1 large master bedroom with a king size bed & a single bed, dressing room, color TV, cable TV and bath tub.
€ 1 bedroom with 2 queen size beds.
€ 2 bedrooms with a queen size bed each.
€ 1 bedroom with a twin size bed.
€ 1 bedroom with a king size bed, color TV, cable TV and VCR.

¡Casa Duo is the vacation home for everyone\'s dream!


Area Details


Las Brisas is the most exclusive residential area in Acapulco, the hotel Las Brisas, which is very close, is world famous.

There are impressive homes and spectacular views on Las Brisas hills.

It's 8 minutes away from the main boulevard ("Costera" avenue) and the beaches on the bay, 9 minutes from the "Princess" and the "Pierre Marquez" hotels and 15 minutes from the international airport.

Acapulco has gorgeous beaches, in where you can enjoy the refreshing breeze and enchanting view of the see, as well as its warm water.

Among the most important, you will find the following ones:

The "Princess" hotel beach is really big and beautiful and it's a rendezvous place for lots of youngsters to have a great deal of fun. This beach is located
at an approximate distance by car of 9 minutes from "Casa Duo".

The "Pierre Marquez" hotel beach is charming and more oriented to a family atmosphere. This beach is located at an approximate distance by car of 9 minutes from "Casa Duo".

The "Hyatt Regency" hotel beach, very relaxing but with a lot of activity and water sports facilities. This beach is located at an approximate distance by car of 7 minutes from "Casa Duo".

The "Sheraton" hotel beach, smaller than the others and at the same time more private but also plenty of water sports facilities. This beach is located at an approximate distance by car of 5 minutes from "Casa Duo".

The "Camino Real" hotel beach is also smaller than the others and at the same time more private but featuring the main water sports facilities.
This beach is located at an approximate distance by car of 5 minutes from "Casa Duo".

The "Elcano" hotel beach, very classy and nice and with excellent youngster's and family's atmospheres. This beach is located at an approximate distance by car of 9 minutes from "Casa Duo".

The private beach of the "Las Brisas" residential area, really small but very exclusive indeed, with subjugating views of the open sea. This beach is located at an approximate distance by car of 3 minutes from "Casa Duo".

In these beaches you can practice all kind of water sports, including snorkeling, scuba diving, sailing, windsurfing, water ski, wave runners, jet skis, the "banana" ride, parachute ride, etc.

You can rent a boat for scuba diving, for deep sea fishing or just for fun as well as all the required equipment, at any of the two "Marinas" of Acapulco, The "Club Nautico" and The "Marina de Acapulco", whose distance from the house is approximate 20 minutes.

For golf lovers there is a diversity of excellent golf courses nearby, like the ones of the "Pierre Marquez" and the "Princess" hotels, both are really captivating, surrounded by palm trees, beautiful birds, etc.¡just gorgeous! and still have quite an accessible entrance fees.

There are others like "Vidafel", charming and right next to the beach, as well as "Tres Vidas", also right in front of the Ocean, being this one considered among
the most exclusive and beautiful golf courses in the world.

There is another one right at the "Costera" (coast avenue) of Acapulco, older than the others but still really nice and with considerably lower entrance fee.

The "Pierre Marquez" and the "Princess" golf courses are located at a distance of about 9 minutes from my villa, "Vidafel", "Tres Vidas" and the golf course at the "Costera" are about 15 minutes away.


Travel Details


I.- transportation.

For going from the international airport of acapulco to "casa duo", you can take a shuttle that is hired directly at the airport.

This one charges $1o u.S.D. Per person and takes you directly to the house's entrance.

You can also hire a regular taxi from the airport, which can take a maximum of four passengers (depending in luggage and passenger\'s size).

These one charges a rate of $30 u.S.D. Per trip.

In both cases, you just have to tell the driver that are going to the lower part of \"las brisas\" residential area and he will take you right there.

Once you are at the entrance, the driver just indicates the guards that you are coming to \"casa duo\" and they will give directions to the driver.

When you get to \"casa duo\", you just have to ring and \"celsita\" (our nice cook) will go out for welcoming.

However, i really suggest to use the services of a nice driver called \"roberto de la cruz\".

Most of my guests from canada and usa use his services and are always quite satisfied.

He is a very reliable and helpful person.

He can supply only the service of transporting you from the airport to the house and vice versa.

For both cases the price he charges is $10 u.S.D. Per passenger, including all the luggage you might have.

You can also hire him for driving you around all day and night long.

He owns two vehicles.

One is a huge 2002 ford van with capacity to comfortably accommodate 14 adults.

Its price for 12 hours is $250 u.S.D.

This price include the vehicle itself, the driver\'s service, gasoline and mileage. (in other words all included).

He also have a nice suburban with a capacity of 7-8 adults (depending on passenger\'s size).

The price of the suburban is $180 u.S.D. Per 12 hours.

Another nice thing of this person is that he gives you 12 effective hours of service, meaning that if for instance, you assign him to take you for fishing from 9 a.M. To 2 p.M. And then you don\'t use him for the following 7 hours, these ones does not count and you still have the 6 remaining hours for more fun¡

then you can use your 6 still remaining hours for a fascinating \"night tour\" from 10 p.M. To 4 a.M., going to bars, restaurants, discothèques, etc.

An endless world of entertainment¡

on the other hand, right at the airport you will find the most important car rentals, like \"avis\", \"budget\", \"dollar\", etc.

For jeep lovers i suggest to go directly to \"saad rent a car\", featuring well kept wrangler jeeps and the lowest fees in town.

Ii.- taxis.

Regular taxis charges about $250 u.S.D. For picking you up at the house and taking you to the airport.

They can take between three and four passengers, depending on luggage and passenger\'s size.

Taxis on the \"costera\" (coast avenue) are really cheap.

They charge between $1.00 u.S.D. And $5.00 u.S.D., depending on distance.

Gallery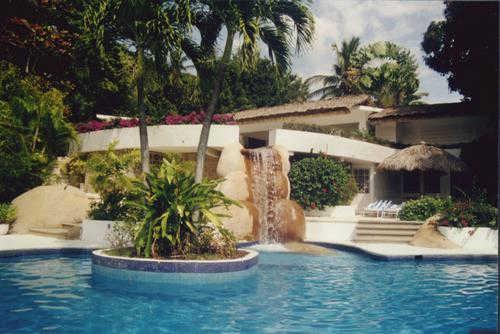 Location


Acapulco,GUERRERO,39867,Mexico

Pricing details



The following rates are per Day
The rates are per PER VILLA
From
Upto
&nbsp
Charging Rate
&nbsp
US Dollars
British Pounds
Euros
30 Apr 2003
31 Oct 2003
450
344
402
31 Oct 2003
22 Dec 2003
600
458
536
22 Dec 2003
05 Jan 2004
1000
763
893
05 Jan 2004
30 Apr 2004
600
458
536
30 Apr 2004
31 Oct 2004
450
344
402
31 Oct 2004
22 Dec 2004
600
458
536



Price Includes:-

SERVICES INCLUDED WITH PRICE

OUR PRICE INCLUDES THE FULL SERVICE OF OUR EXCELLENT COOK, THE EFFICIENT MAID AND THE GRAND TOURISM-ENGLISH SPEAKING WAITER (HE CAN GO TO THE SUPERMARKET TO BUY YOUR GROCERIES FOR YOUR COMFORT), AS WELL AS THE PEOPLE
THAT COME TO THE HOUSE SEVEN DAYS A WEEK TO CLEAN THE TWO SWIMMING POOLS, IN ORDER TO KEEP THEM SPARKLINGLY CLEAR.

OUR STAFF MEMBERS ARE IN THE HOUSE FROM 8.00 IN THE MORNING UNTIL REALLY LATE AT NIGHT READY TO TAKE CARE TO THE MINIMUM DESIRE OF OUR GUESTS.

IF THE GUEST DESIRE SO, THERE CAN BE FOOD AND BEVERAGES WAITING FOR THEM AT THEIR ARRIVAL AND THE COST OF THESE GROCERIES IS REFUND AFTERWARDS BY THE GUEST TO CELSA (THE HOUSE'S COOK).

ALL THESE SERVICES ARE PLENTY INCLUDED WITH THE PRICE.

LINENS (CHANGED EVERYDAY), BATH AND POOL TOWELS, DINNING WARE AS WELL AS ALL THE NECESSARY ARTIFACTS USED TO GIVE A 100% PROFESSIONAL SERVICE ARE PROVIDED BY STAFF WITH NO EXTRA CHARGE AT ALL.

THERE ARE NO OTHER EXTRA CHARGES LIKE TAXES, NEITHER ANY OTHER TYPE OF THEM.

GROCERIES AND BEVERAGES IN GENERAL ARE AFFORDED BY GUESTS (PURIFIED WATER IS PROVIDED BY THE HOUSE WITH NO CHARGE).

YOU ALSO HAVE ACCESS TO THE BEAUTIFUL TENNIS CLUB OF "LAS BRISAS" AS A GUEST OF "CASA DUO". THE CLUB IS ABOUT ONE MINUTE AWAY BY CAR FROM THE HOUSE.

THE ACCESS AND USE OF FACILITIES IS TOTALLY FREE FOR OUR GUESTS, INCLUDING THE SPECTACULAR SWIMMING POOLS, JACUZZI, CHILDREN RECREATIONAL AREA, TURKISH BATHS, GYMNASIUM, AEROBICS, TENNIS COURTS, PADDLE TENNIS COURT,
RESTAURANTS, LIBRARY, REALLY ELEGANT MOVIE THEATRE AS WELL AS AN EXCELLENT AND FREE OF CHARGE ENGLISH SPEAKING MEDICAL SERVICE, 24 HS. A DAY 365 DAYS A YEAR.



Price Excludes:-

GROCERIES AND DRINKS, BUT OUR STAFF CAN GO TO BUY THEM FOR OUR GUESTS WITH NO EXTRA CHARGE.
ALSO TRANSPORTATION IS EXCLUDED BUT WE CAN ARRANGE IT FOR OUR GUESTS.





Availability Details


Please contact owner for latest availability details

Contact Details - Preferred option listed first



Note: Disclaimer
For Rental Enquiries - Email the owner.. Click here. (NB. You need to have popups enabled to use this)
Tel No. ALEJANDRO PESQUEIRA VIESCA at (55)5251-1642 in Mexico - Please Quote Reference:Villa Vacations -8554
Between 10 and 14 in Mexico time
They normally prefer email but their email address is currently out of action.
Fax No. (55)5251-1642 in Mexico
Features


Air Conditioning
Communal Swimming Pool
Dishwasher
Private Swimming Pool
Satellite or Cable Television
Stereo System
Television
Video Cassette Recorder
Washing Machine



Activities


Activity - Tennis, Golf, Pools
Culture - Museums, Historic Sites
Night Life, Theatres, Restaurants
Outdoor Activities - Walks, Lakes, Woods
Seaside - Close to beaches



Restrictions






Owner's Links


Click Here for more information about this property
End of Links
---