Property Details


The residence is situated in Horseshoe Bay, which is the largest bay on the Island. Only a 10-minute walk from the beach, ideal for water sports, horse riding, sailing, features the Koala Oasis, Horseshoe Bay Lagoon Environmental Park and has a safe swimming enclosure during the summer. The unit is 180 sq meters plus features a large 2 verandas, outside barbeque area with tennis table and under cover car park, the house is surrounded by garden. Fully air-conditioned, the apartments are almost new. Also complimentary pick up from the ferry terminal can be arranged.


Area Details


Magnetic Island is a tropical Island, which boasts 320 days of sunshine per year, average temperatures of 25'C in winter and 32'C in summer. The island (which is 11km long/10 km wide and a 25 minute ferry ride from Townsville) has a total of 24 beautiful beaches of which most are secluded and feature some of the best snorkelling area's WITH TROPICAL CORAL REEF to be seen. Water temperatures NO LESS THAN 20 c. even in winter. Exciting rock formations, profuse and diverse tropical birds and wildlife that is spotted easily. Magnetic Island is the Koala capital of Australia plus 75% national park boasting a total of 25km bush walking tracks. The Island has a low population of only approximately 2500 people and has no high-rise buildings. It has it's own Police Station, Ambulance, Medical Centre and has a wide range of shops and restaurants. Townsville also offers;
- a crocodile farm with it's own Australian Wildlife Sanctuary
- 60 km drive to fabulous tropical rain forests
- 1.5 hours drive to the highest water fall in Australia
- 4 hours drive to Cairns
- 4 hours drive to Undara - the longest lava tubes in the world
- 2 hours drive to white water rafting in Tully.


Travel Details


Plenty of transport is available on the island with buses approximately every hour. Fast ferries are running from Townsville to the island (vice versa) approx. every hour.

Gallery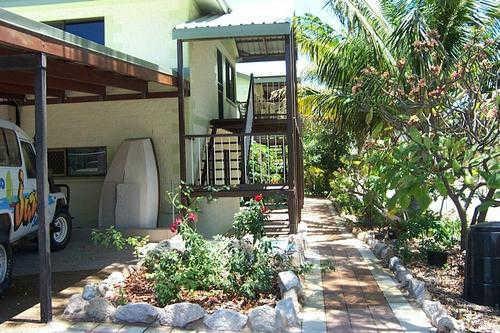 Panorama


Click on any image below to open a full panorama in a new window.


Apartment Veranda

Radical Bay, Magnetic Island

Road leading to Nelly Bay Harbour

Arthur Bay

Location
The marker is a close indicator to the property location.
| | |
| --- | --- |
| Powered by google maps. Google maps of rental properties needs Javascript enabled | Overview google map. |
Click on the map below for a larger map of the area


Magnetic Island, Queensland,Queensland. Australia,4819,Australia

Pricing details



The following rates are per Week
From
Upto
&nbsp
Charging Rate
&nbsp
Australian Dollars
US Dollars
British Pounds



Price Includes:-

3 days or more renting for 5 bedroom appartamment -$ 380 per night
7 days o more $ 350 per night



Price Excludes:-

The five bedroom unit can be divided into two - 2 and 3 bedroom units
Contact us for special deals if smaller unit is required.
Availability Details

<-- For Full Detailed Calendar with Larger Text click the image
Last Updated on 2008-Nov-03
April, 2020
Su
Mo
Tu
We
Th
Fr
Sa
1
2
3
4
5
6
7
8
9
10
11
12
13
14
15
16
17
18
19
20
21
22
23
24
25
26
27
28
29
30

May, 2020
Su
Mo
Tu
We
Th
Fr
Sa
1
2
3
4
5
6
7
8
9
10
11
12
13
14
15
16
17
18
19
20
21
22
23
24
25
26
27
28
29
30
31

June, 2020
Su
Mo
Tu
We
Th
Fr
Sa
1
2
3
4
5
6
7
8
9
10
11
12
13
14
15
16
17
18
19
20
21
22
23
24
25
26
27
28
29
30

July, 2020
Su
Mo
Tu
We
Th
Fr
Sa
1
2
3
4
5
6
7
8
9
10
11
12
13
14
15
16
17
18
19
20
21
22
23
24
25
26
27
28
29
30
31
August, 2020
Su
Mo
Tu
We
Th
Fr
Sa
1
2
3
4
5
6
7
8
9
10
11
12
13
14
15
16
17
18
19
20
21
22
23
24
25
26
27
28
29
30
31

September, 2020
Su
Mo
Tu
We
Th
Fr
Sa
1
2
3
4
5
6
7
8
9
10
11
12
13
14
15
16
17
18
19
20
21
22
23
24
25
26
27
28
29
30

October, 2020
Su
Mo
Tu
We
Th
Fr
Sa
1
2
3
4
5
6
7
8
9
10
11
12
13
14
15
16
17
18
19
20
21
22
23
24
25
26
27
28
29
30
31

November, 2020
Su
Mo
Tu
We
Th
Fr
Sa
1
2
3
4
5
6
7
8
9
10
11
12
13
14
15
16
17
18
19
20
21
22
23
24
25
26
27
28
29
30
Contact Details - Preferred option listed first



Note: Disclaimer
For Rental Enquiries - Email the owner.. Click here. (NB. You need to have popups enabled to use this)
Tel No. Andrew &Dana -Dajski at 07 47 785530 in Australia - Please Quote Reference:Villa Vacations -8769
Languages spoken: English, Polish
Between 8 and 22 in Australia time
Alternate Tel No. Andrew &Dana -Dajski at 0400704569
By Post to: Andrew &Dana -Dajski, 90 Horseshoebay Road, Magnetic Island Qld 4819, Townsville, Queensland, 4819,Australia
Other Properties


Click here to see other properties owned/managed by this advertisor
Features


Air Conditioning
Communal Swimming Pool
Dishwasher
DVD Player
Private Swimming Pool
Stereo System
Television
Video Cassette Recorder
Washing Machine



Activities


Activity - Tennis, Golf, Pools
Culture - Museums, Historic Sites
Night Life, Theatres, Restaurants
Outdoor Activities - Walks, Lakes, Woods
Seaside - Close to beaches
Wilderness - Mountains, River Gorges



Restrictions






Owner's Links



About the Island
Info...
Info2...
The Great Tropical Jazz Party Website
End of Links
---