Property Details


The Impala Maurituus rent six fully furnished self catering flats for 2, 4 or 6 persons with free 24/7 wifi and house keeping.Breakfast and dinner on request is available at an extra cost.


Area Details


Mon Choisy and Trou aux biches are the most sought after for its location with respect to the paradiasical sandy beaches,clear and turquoise water of the lagoon, sun and the right place for diving and snorkelling.Lots of beach activities are available with a fair amount of restos as well.This is the heart of the tourist hub in Mauritius.


Travel Details


Bus services are avalailble from 5 till 20H00
Gallery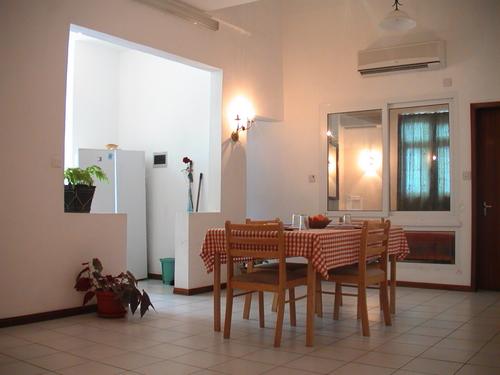 Panorama


Click on any image below to open a full panorama in a new window.


Mauritius Rent Rentals Location Ile Maurice Mont Choisy Trou

Grand Bay Grand Baie

Dodo Mauritius Ile Maurice

Cardinal Fody Residence Impala Mauritius Ile Mauritius

Location
The marker is an accurate indicator of the property location.
| | |
| --- | --- |
| Powered by google maps. Google maps of rental properties needs Javascript enabled | Overview google map. |
Click on the map below for a larger map of the area


Mauritius Mont Choisy Grand Bay Grand Ba,Mont Choisy Trou aux Biches Mon Choisy G,22304,Mauritius

Pricing details



The following rates are per Day
The rates are per 36 euros/night for 2 persons
From
Upto
&nbsp
Charging Rate
&nbsp
Euros
US Dollars
British Pounds
31 Mar 2016
31 Mar 2017
36
40
31



Price Includes:-

For each additional person beyond 2 persons allow 9 euros/night to a max of 54 euros/night for the whole apartment with air conditioning and housekeeping.
If you are only two persons and wish to have this apartment all for yourself but use only one air conditioned bedroom the price you pay is only 36 euros/night.



Price Excludes:-

Airport transfers are solely on request by taxi or mini van.
For 1-2 persons a taxi car will cost 50 Euros per transfer.
For more than 2 and less than 8 persons a mini bus should be called for at 75 Euros per transfer.
Availability Details

<-- For Full Detailed Calendar with Larger Text click the image
Last Updated on 2017-Sep-28
July, 2020
Su
Mo
Tu
We
Th
Fr
Sa
1
2
3
4
5
6
7
8
9
10
11
12
13
14
15
16
17
18
19
20
21
22
23
24
25
26
27
28
29
30
31

August, 2020
Su
Mo
Tu
We
Th
Fr
Sa
1
2
3
4
5
6
7
8
9
10
11
12
13
14
15
16
17
18
19
20
21
22
23
24
25
26
27
28
29
30
31

September, 2020
Su
Mo
Tu
We
Th
Fr
Sa
1
2
3
4
5
6
7
8
9
10
11
12
13
14
15
16
17
18
19
20
21
22
23
24
25
26
27
28
29
30

October, 2020
Su
Mo
Tu
We
Th
Fr
Sa
1
2
3
4
5
6
7
8
9
10
11
12
13
14
15
16
17
18
19
20
21
22
23
24
25
26
27
28
29
30
31
November, 2020
Su
Mo
Tu
We
Th
Fr
Sa
1
2
3
4
5
6
7
8
9
10
11
12
13
14
15
16
17
18
19
20
21
22
23
24
25
26
27
28
29
30

December, 2020
Su
Mo
Tu
We
Th
Fr
Sa
1
2
3
4
5
6
7
8
9
10
11
12
13
14
15
16
17
18
19
20
21
22
23
24
25
26
27
28
29
30
31

January, 2021
Su
Mo
Tu
We
Th
Fr
Sa
1
2
3
4
5
6
7
8
9
10
11
12
13
14
15
16
17
18
19
20
21
22
23
24
25
26
27
28
29
30
31

February, 2021
Su
Mo
Tu
We
Th
Fr
Sa
1
2
3
4
5
6
7
8
9
10
11
12
13
14
15
16
17
18
19
20
21
22
23
24
25
26
27
28
Contact Details - Preferred option listed first



Note: Disclaimer
For Rental Enquiries - Email the owner.. Click here. (NB. You need to have popups enabled to use this)
Tel No. Ashok JHEELAN at 00 230 265 6 747 in Mauritius - Please Quote Reference:Villa Vacations -9136
Languages spoken: English French Dutch Afrikaans
Alternate Tel No. Ashok JHEELAN at 00230 265 5009
Fax No. 00 230 265 6 747 in Mauritius
Other Properties


Click here to see other properties owned/managed by this advertisor