Property Details


3 bedroomed 3 bath stone villa with own pool and Sat TV. Air Con. Walk to beach and local shops tavernas. Car not required. Special rates April - June and underoccupancy. Limited mobility friendly.
Accommodation
The villas are in a fantastic unique location in the centre of Polis, enclosed in private grounds by stone mock castle walls, and there is private parking. Each villa is on two levels, and the villas have been designed to give poolside privacy. The kitchen window is much wider and lower than usual, enabling one to see within the pool. Great if you have children.
The 3 bedrooms, one double, two twin, all have en-suite shower/w.c., and one bedroom, shower/w.c. is on the ground floor.
Fully equipped kitchen includes dishwasher, washing machine, large fridge freezer and microwave. Comfortable and spacious lounge, satellite TV/Video,. CD & tape hi fi. Open plan dining room for 6.
Private pool 9m x 5m approx. with walk in steps. BBQ, Poolside equipped with quality sunloungers and umbrellas etc. Owner can fix a large umbrella to shade the pool steps. Ideal for children or anyone who has had enough sun, wanting to keep cool. We have 3 bedroomed 2 bathroomed Polis Hideaway next door and 4 x 2 bedroomed Orchard Villas in this location, next to the sea


Area Details


Polis Town has everything, beaches, great restaurants, something for everyone, interesting shops, banks. A town with a traditional village feel. Most of our guests love the individual shops, (No McDonalds or Kentucky type outlets) and the lovely intimate pedestrian area which has level access all the way to the Polis Square with Moustakallis and Finikas Tavernas. The sandy beach is walking distance (as long as it is not midday in July August).
Fishing opportunities are available here, freshwater and sea. You can buy a Licence for Evretou Dam nearby in Polis, and our clients have had great success there.
Dear Irene,

We have just returned from our week in Cyprus and before we get back to work I wanted to provide some feedback, as requested.

You might like to use the following for a review of Polis Castle:

Polis Castle is a very spacious and comfortable house in an excellent position in Polis. This central, yet quiet and private location, is just a five minute walk from restaurants, shops, supermarkets, tourist information and other amenities. Polis has the feel of a village rather than a town and we felt very at home and safe here. We were very pleased that we opted for Polis….. The owners of Polis Castle, Dimitri and Zoe, were extremely helpful and friendly, without being in any way intrusive, and were extremely polite and considerate in answering our questions.

Barry Dowler,
Cambridge


Travel Details


Buses, taxis. Car Hire. Boat trips. Bikes.

Gallery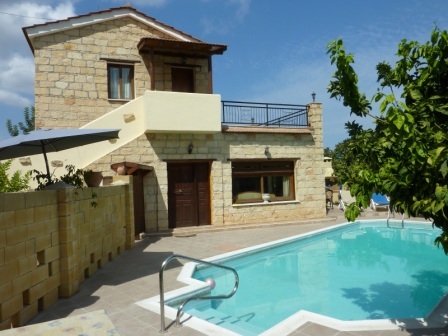 Location
The marker is a close indicator to the property location.