Property Details


Beautiful, sunny, 3 bedroom apartment,perfect for 2-5 people, 2 minutes walk from the beach, in the centre of the small coastal village, Caldetes, on the Maresme Coast, 35 minutes by train to the centre of Barcelona, with a fabulous well-equipped kitchen, open living/dining area, and small sunny terrace.
The apt is in a small apt building in the center of the village on a quiet ( dead end) street. This is not a tourist complex!
The main bedroom has a great queen sized bed and wall to wall built-in closets. There is a smaller bedroom with a double bed and adequate closet space. There is a third, very small bedroom with a single bed that's great for short term guests, a siesta room or perfect for a child. The bathroom, blue and white and natural wood, is neat and complete - sink , toilet, a bidet, a beautiful step-in shower and a great wall to wall mirror.

The rest of the flat consists of one large open clean and airy space: well-equipped kitchen – stove /oven ( full cooker), large fridge, microwave, with an ample natural wood countertop/breakfast bar, dining area with an extendable table ..sits 3 to 6 .. and a living area with a sofa, coffee table and two arm chairs. The wide sliding glass doors lead out onto a small terrace with a table and chairs. There's a TV with a multi-zone DVD player so bring along your favorite DVD's , and there's a CD player.

Two short flights up is the community roof top terrace with a view of the sea ( not to mention the stars and moon :- ) . There you will also find a small table and chairs as it is a great place to have a glass of wine before or after dinner ( or to have dinner!). There is a small laundry room with a new washing machine and there are plenty of lines to sun-dry your clothes .

The flat is on a small dead-end street right in the center, just one minute from the charming fruit and vegetable market and shops. It is a three (two, five?) minute walk over to the wide sandy beach and even less to the train station that takes you, on tracks by the sea, right to the heart of Barcelona - Pl Catalunya- in exactly 38 minutes.
The central heating makes non-summer rentals even more comfortable.

RESERVATIONS: A reservation depostit is always required,as well as a 25 euro booking fee. The amount of the reservation/security deposit will depend on the length of stay and the number of people but will never be less than 150 euros. The reservation deposit becomes the security deposit upon arrival.


Area Details


Caldetes, or Caldes d'Estrac as it is also known,( check it out yourself: www.caldetes.org Click on tiny British flag top right and you'll for some loevely photos of the town) sits right next to the sea and is one of the smallest towns in Catalunya, but even more importantly , it is the town on the Maresme Coast that has managed to maintain an entirely natural, quiet, small town setting without artifice.
Caldes is also known for its thermal waters which adds another facet for year round vacationers. There are municipal thermal baths ( known for respiratory, circulatory and nervous system treatments , as well as rheumatology and traumatology) and a reasonably priced private center ( Balneario Titus) and there are more in the making.

The beaches, divided into the south side and north side, are all wide and sandy. The south side has installed some swing and slide groupings for children, and volleyball nets for adults, while the entire stretch – north and south - employs life-guards, boasts open fresh water showers about every hundred meters, cafes right on the sand - where you can chill out with a tasty paella and refreshing sangria , or a cold soft drink and a snack.
For those who like the idea , a ten minute stroll northwards will take you to a municipally established nudist beach . It's technically in the next town – Arenys de Mar . Here you'll find a relaxed nudist atmosphere , the same wide sandy beach, the same open showers and sandside cafes.

Although a small town, Caldes has always taken great interest in the arts and music. There are various exhibition spaces, music fests, and an important new addition is the FUNDACIó PALAU (www.fundaciopalau.net ) boasting the collection of one of the most prestigious experts on Pablo Picasso, Josep Palau, where the main exhibition room is dedicated exclusively to Picasso.

Being right on the modern local train line means you can not only hop down to Barcelona but visit towns all up and down the coast, or even daytrip it to places like Girona ( an hour ) or Figueres ( an hour and a half) if you fancy a visit to the famous Dalí Museum for example.


Travel Details


The beach is two minutes walk away, as are the central fruit and vegetable market, shops, restaurants and museums.

The train station is even closer (but not too close!!). Excellent, inexpensive train service (the same train line to and from Bcn's airport) to Barcelona, and northwards to other lovely coastal towns, every 15 to 30 minutes.

Gallery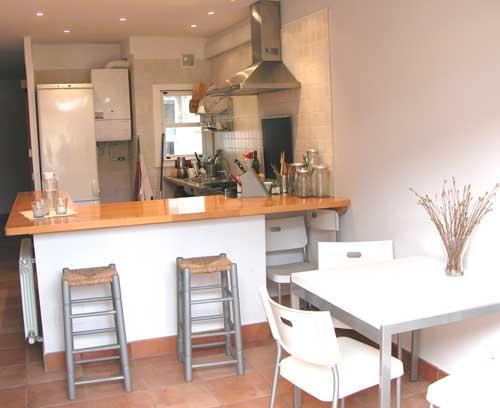 Location
The marker is a close indicator to the property location.
| | |
| --- | --- |
| Powered by google maps. Google maps of rental properties needs Javascript enabled | Overview google map. |
Click on the map below for a larger map of the area


Caldetes,Catalunya,08393,Spain

Pricing details



The following rates are per Week
The rates are per based on two people
From
Upto
&nbsp
Charging Rate
&nbsp
Euros
US Dollars
British Pounds
13 Mar 2008
28 Mar 2008
600
672
513
28 Mar 2008
20 Jun 2008
575
644
491
20 Jun 2008
01 Aug 2008
700
784
598
01 Aug 2008
29 Aug 2008
750
840
641
29 Aug 2008
26 Sep 2008
675
756
577
26 Sep 2008
20 Dec 2008
625
700
534



Price Includes:-

All bed linen, towels etc



Other Information:-

25 euro booking fee
Availability Details

<-- For Full Detailed Calendar with Larger Text click the image
Last Updated on 2008-Feb-10
January, 2021
Su
Mo
Tu
We
Th
Fr
Sa
1
2
3
4
5
6
7
8
9
10
11
12
13
14
15
16
17
18
19
20
21
22
23
24
25
26
27
28
29
30
31

February, 2021
Su
Mo
Tu
We
Th
Fr
Sa
1
2
3
4
5
6
7
8
9
10
11
12
13
14
15
16
17
18
19
20
21
22
23
24
25
26
27
28

March, 2021
Su
Mo
Tu
We
Th
Fr
Sa
1
2
3
4
5
6
7
8
9
10
11
12
13
14
15
16
17
18
19
20
21
22
23
24
25
26
27
28
29
30
31

April, 2021
Su
Mo
Tu
We
Th
Fr
Sa
1
2
3
4
5
6
7
8
9
10
11
12
13
14
15
16
17
18
19
20
21
22
23
24
25
26
27
28
29
30
May, 2021
Su
Mo
Tu
We
Th
Fr
Sa
1
2
3
4
5
6
7
8
9
10
11
12
13
14
15
16
17
18
19
20
21
22
23
24
25
26
27
28
29
30
31

June, 2021
Su
Mo
Tu
We
Th
Fr
Sa
1
2
3
4
5
6
7
8
9
10
11
12
13
14
15
16
17
18
19
20
21
22
23
24
25
26
27
28
29
30

July, 2021
Su
Mo
Tu
We
Th
Fr
Sa
1
2
3
4
5
6
7
8
9
10
11
12
13
14
15
16
17
18
19
20
21
22
23
24
25
26
27
28
29
30
31

August, 2021
Su
Mo
Tu
We
Th
Fr
Sa
1
2
3
4
5
6
7
8
9
10
11
12
13
14
15
16
17
18
19
20
21
22
23
24
25
26
27
28
29
30
31
Contact Details - Preferred option listed first



Note: Disclaimer
Features


DVD Player
Stereo System
Television
Washing Machine



Activities


Activity - Tennis, Golf, Pools
Culture - Museums, Historic Sites
Night Life, Theatres, Restaurants
Outdoor Activities - Walks, Lakes, Woods
Seaside - Close to beaches



Restrictions


No Pets



Owner's Links



Caldetes Beaches
The Town of Caldetes
Picasso in Caldetes
End of Links
---