Property Details


A REAL PARADISE!..... The villa is situated in the very quiet select and in conservation area in the hillsides of GRASSE,Capital of the perfumes.The villa is surrounded by a beautiful garden of 2000sqm planted with Mediterranean plants, with a pool and its beach. The first level apartment is totally private and independent with its own entrance and its own terrace which overlook at the pool, the garden and the valley. The double living has a sofa bed and a television satellite and hi-fi cabinet. There are two bedrooms pleasantly furnished and light. One has a double bed and the other one has a double bed and a single bed. there are 2 bathrooms situated in front each bedroom. 3 wc . The spacious kitchen is fully equiped and included a dishwasher, washing machine, oven and hob, microwave and refrigerator. It opens onto a private, terrace with garden furnitures and a barbecue which overlook the garden, the valley and the swimming pool.
The swimming pool is surrounded by wrought iron fencing with gates and equiped of sunloungers.
There is a covered parking for cars to keep them cool.


Area Details


The old town of GRASSE has long been the center of the perfume making industry and is famous for its fields and jasmine and lavender, which are harvested and distilled to make the scents and essences. The warm climate make a favourite place. There are excellent shops, restaurants and general facilities.

CANNES, a 10 minutes drive from here, lies on the Bay of Naples. Fringed by a semicircle of hills, it has exceptionaly mild climate with a rich variety of trees and plants, and a fine beach. The town has several Festivals thourough the year, including the International Film Festival in May.
You can often find flower markets here and also the Rue Félix Faure has some wonderful shops.
Nearby are the Medieval and charming hilltop villages of AURIBEAU-S-SIAGNE, CABRIS,SAINT PAUL DE VENCE,BIOT,HAUTS DE CAGNES, MOUGINS, SAINT VALLIER, SAINT CESAIRE,GOURDON which are pleasant to walk around.
MONACO , MONTECARLO and ITALY are at 45 minutes driving
ANTIBES-JUAN LES PINS: 15 minutes driving
Wilderness: one hour drive from the Mercantour Natural Park ( Mountains, forest, lakes, Rupestrian Paintings)

There are some more things to do: beaches, sea, mountains, lakes, canyons, water sports, mountains sports, winter sports, sailing, windsurfing, fishing, diving, canoying, sking, art, painting, castles, museums, casinos, gambling, golf, tennis, antiques, markets, relaxation etc....

GOLF DETAILS The Frenchriviera is the ideal destination for golfing adepts who like a mediterrean backdrop to their swing. 19 courses all around the Property. At only 3 mns driving: SAINT DONAT COUNTRY CLUB: 18 hole (6031m par 71 and its 9-hole course are set in a tuypically natural decor combining trees, fragances and flower beds. A fine american-style course, beautiful sculpted, it easily accomodates all levels of play. It owns all the trumps of a big gollfic center. CLAUX AMIC GOLF COURSE with 18hole course (6021m par 72 lies on a superb hillside estate above GRASSE. Both pleasant and technical play is never confronted by excessive difficulties.Watch out,though, for the bunkers dog legs and water hazards which dot the course, andalso for the oak forest which demand straight and precise drives. The quiet and serene atmosphere which reigns on the site encourages relaxation and concentration. A fine day's golf under the shadow of an oak forest and the smell of Grasse's perfumes.

NAUTICAL ACTIVITIES,SAILING ACTIVITIES On the Côte d'Azur which,as they say, boats the loveliest light in the world, the Mediterranean offers a magnificent opportunity for sea-faring pleasures. Cruises along the coast or further out to sea, made possible by about 30 harbours . The adventure of nautical discoveries for children as well as adults, competitive events, enjoyment and excitement for even the most energic, exploration of an exceptional underwater world..... All over the area you'll find clubs, sailing, centers, associations to welcome you warmly and offer the type of activity that suit the best.

MARITIME HERITAGE AND MUSEUMS Towns and hill-top villages: Le Suquet (Cannes),Biot,Mougins,Haut de Cagnes, St Paul de Vence, Eze Village, La Turbie, Beausoleil, Roquebrune...... Fortifications: Ramparts of ANTIBES and the Fort Carré, Fort du Mont Alban in Nice, Citadel at Villefrance, Château de la Napoule, Château de Roquebrune, Bastion in Menton's Old Port. MONACO OCEANOGRAPHIC MUSEUM: Tjis museum to the glory of the oceans thrones 80 metres above the sea on a prime location on the Rock of Monaco. All the sciences of the sea are represented in a remarkable collection of marine fauna...... MARINELAND, The great sea show. The largest and most important marine attraction in Europe. It reveals all the wonders of the sea. Don't miss the brand new pool for orcs, the dolphin and sea-lion shows, the shark tunnel aquarium, the 'hands-on', rayfish pool, the Jellyfish Odyssey, the Tropical reefs and aquariums.......

Nearest international airport: INTERNATIONAL NICE AIRPORT at 20 kilometres
Nearest beach: 10 kilometres
Nearest ferry port: CANNES at 10 kilometres
Nearest railway station: GRASSE (1km) or CANNES (10km)
Nearest motorway junction: A8 at 1 kilometres


Within a two minutes walking from the property, is a boulangerie which specialises in provençal breads and pastries, hot croissants and pain au chocolat etc......


Travel Details


There is a bus at the feet of the property
international airport nice: 20 minutes
station office grasse: 2 minutes
station office cannes: 10 minutes
rent a car: avis - budget - hertz etc...
An air conditionned car to and from nice airport can be arranged at 150 euros or from cannes at 85 euros.

Gallery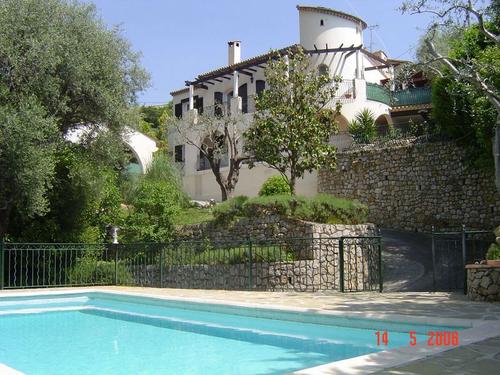 Location
The marker is a close indicator to the property location.