Property Details


Vacation house Katarina in Old town offers two apartmants Danijela and Petra.Apartmant Danijela has two bedrooms(two with double beds, bathroom,living room and a kitchen( fully equiped). Studio apatrmant Petra has a room with double bed, mini kitchen and a bathroom. Each apartmant is air-conditioned. This house is perfect for families and a group up to six persons.The beach is in the 5 minutes walking distance.
The price of apartments DANIJELA is 160 EUR - PETRA 60 EUR in July and August, 120 EUR - 50 EUR in May, June and September and 100 EUR - 50 EUR for other month
We make transfer from the airport to the apartment .


Area Details


Dubrovnik is a very beautifull medieval town with natural beaches, historical monuments, excelant food and vine, and a famous summer festival. There is no traffic allowed in the inside the city walls were the house is located.


Travel Details


Is done by bus or a taxi.
Gallery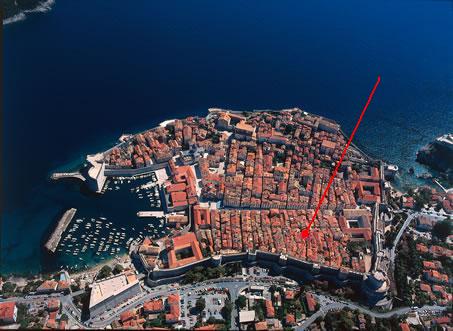 Location


Dubrovnik,Croatia,20000,Croatia

Pricing details



The following rates are per Day
The rates are per apartment
From
Upto
&nbsp
Charging Rate
&nbsp
Euros
US Dollars
British Pounds



Other Information:-

By question
Availability Details

<-- For Full Detailed Calendar with Larger Text click the image
Last Updated on 2005-Jun-06
May, 2022
Su
Mo
Tu
We
Th
Fr
Sa
1
2
3
4
5
6
7
8
9
10
11
12
13
14
15
16
17
18
19
20
21
22
23
24
25
26
27
28
29
30
31

June, 2022
Su
Mo
Tu
We
Th
Fr
Sa
1
2
3
4
5
6
7
8
9
10
11
12
13
14
15
16
17
18
19
20
21
22
23
24
25
26
27
28
29
30

July, 2022
Su
Mo
Tu
We
Th
Fr
Sa
1
2
3
4
5
6
7
8
9
10
11
12
13
14
15
16
17
18
19
20
21
22
23
24
25
26
27
28
29
30
31

August, 2022
Su
Mo
Tu
We
Th
Fr
Sa
1
2
3
4
5
6
7
8
9
10
11
12
13
14
15
16
17
18
19
20
21
22
23
24
25
26
27
28
29
30
31
September, 2022
Su
Mo
Tu
We
Th
Fr
Sa
1
2
3
4
5
6
7
8
9
10
11
12
13
14
15
16
17
18
19
20
21
22
23
24
25
26
27
28
29
30

October, 2022
Su
Mo
Tu
We
Th
Fr
Sa
1
2
3
4
5
6
7
8
9
10
11
12
13
14
15
16
17
18
19
20
21
22
23
24
25
26
27
28
29
30
31

November, 2022
Su
Mo
Tu
We
Th
Fr
Sa
1
2
3
4
5
6
7
8
9
10
11
12
13
14
15
16
17
18
19
20
21
22
23
24
25
26
27
28
29
30

December, 2022
Su
Mo
Tu
We
Th
Fr
Sa
1
2
3
4
5
6
7
8
9
10
11
12
13
14
15
16
17
18
19
20
21
22
23
24
25
26
27
28
29
30
31
Contact Details - Preferred option listed first



Note: Disclaimer
For Rental Enquiries - Email the owner.. Click here. (NB. You need to have popups enabled to use this)
Tel No. Katarina Kraljevic at +385989074901 in Croatia - Please Quote Reference:Villa Vacations -9894
Languages spoken: English
Features


Air Conditioning
Dishwasher
Television
Washing Machine



Activities


Activity - Tennis, Golf, Pools
Culture - Museums, Historic Sites
Night Life, Theatres, Restaurants
Outdoor Activities - Walks, Lakes, Woods
Seaside - Close to beaches



Restrictions


No Pets
No Smokers



Owner's Links



End of Links
---