Property Details


Spacious, four-bedroomed, airconditioned villa; 4 bathrooms (all ensuite); Five minutes stroll to the harbour, shops and amazing restaurants. Lovely pool with good-sized terrace for sun-bathing - sunbeds and umbrellas around the pool - sea views. Barbeque. Huge sun roof with wonderful views of Kalkan Bay - two more sunbeds and umbrella. The sun roof has a table and chairs for 8 to eat under the stars. Fridge also on the roof (to save your legs). Large living area with tiled floor and high standard of furnishings. Set near two villas of same quality - at present unsold. Modern kitchen/diner with washing machine, fridge freezer, dishwasher. Television with DVD - good selection of films and music DVDs. Small library of paperbacks. The three bedrooms with double beds on the first floor (all ensuite)are furnished with handmade pine furniture. Ground floor has double bedroom with doors opening onto the pool area.

Reponse from previous visitors:
"Just to let you know we had a wonderful holiday. The villa is beautiful and we loved the way it was furnished and decorated. To swim in the pool with the view of the sea was great and we spent most evenings on the terrace. We will recommend your villa to everyone."

"We had a great holiday and the villa was a major factor. The close proximity to the town was a tremendous plus and the facilities exceeded our expectations."


Area Details


Bars, restaurants and beach are all within an easy five minute walk. Winding streets, roof terrace bars and harbour-side restaurants make Kalkan known as "The Turkish Riviera". Wonderfully, it has avoided mass tourism. Patara Beach is half an hour by car and is considered one of the best beaches in the world. Privately skippered boats can be hired for the day to take you to coves for a swim in the turquoise sea. Water sports and scuba diving are available. Many wonderful places to visit: Saklikent Gorge, Kokova sunken city, Tlos, Xanthos, Letoon, Pinara, Demra. For those who know Kalkan, Villa Lokum is approximately 2 minutes up from the Post Office.


Travel Details


Nearest airport is Dalaman in the summer and Antalya in the winter. Transfer from Dalaman is 2 hours and 3 hours from Antalya. Both pleasant journeys. Cost of taxi from Dalaman to Kalkan is approx. £80 return (Max. 4 people) Minibus £100 return (4-6 people). With Villa Lokum a taxi not needed once you are in Kalkan. Dolmus (bus) can take you to all the sites nearby at a very reasonable cost. Plenty of buses to places such as Olu Deniz (one hour)and Kas (20 minutes).

Gallery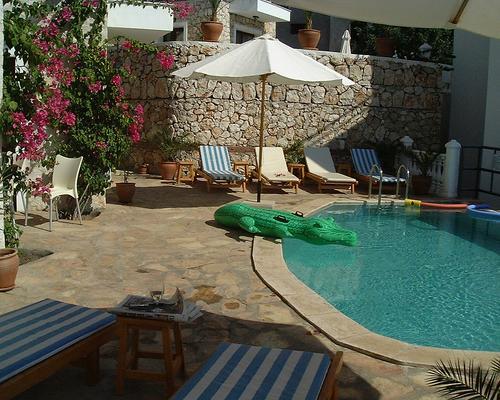 Location
The marker is an accurate indicator of the property location.