Property Details


Spacious, 2 bedroomed (one ensuite) second floor apartment in block of only 3. Very large, shared pool. Unique, secluded garden setting near Kalamar Bay. The modern apartment block is very private and quiet - a wonderful location for those wanting to get away from it all. There is a short walk to the village centre through olive groves. Glorious sea and mountain views from the pool and your balcony. Sleeps 4/6 (2 bedrooms and 2 sofa beds). Sunbeds and parasol are provided.


Area Details


Bars, restaurants and beach are all within easy reach. Winding streets, roof terrace bars and harbour-side restaurants make Kalkan a very picturesque and inviting holiday destination. Kalkan has avoided mass tourism. Patara Beach is hal and hour by car and is considered on of the best beaches in the world by The Sunday Times travel writer. Privately skippered boats can be hired for the day to take you to coves for a swim in the turquoise sea. Water sports and scuba diving are available. Many wonderful places to visit: Saklikent Gorge, Kokova sunken city, Tlos, Manthos, Letoon, Pinara, Demra.


Travel Details


There are taxis to Kalkan village centre if necessary. Cheap fares on Dolmus buses to any of the nearby regions and towns from the centre of the village.

Gallery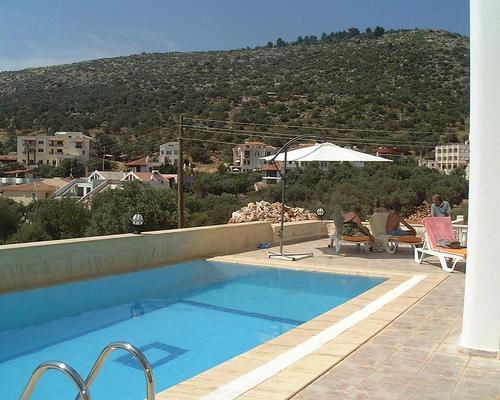 Location


Kalkan,Antalya,k,Turkey

Pricing details



The following rates are per Week
The rates are per for the apartment
From
Upto
&nbsp
Charging Rate
&nbsp
British Pounds
US Dollars
Euros
31 May 2005
30 Jun 2005
300
393
351
30 Jun 2005
31 Aug 2005
350
459
410
31 Aug 2005
30 Sep 2005
300
393
351



Price Includes:-

Bed linen and weekly service.



Price Excludes:-

Towels for the pool.
Availability Details

<-- For Full Detailed Calendar with Larger Text click the image
Last Updated on 2005-Jul-07
May, 2022
Su
Mo
Tu
We
Th
Fr
Sa
1
2
3
4
5
6
7
8
9
10
11
12
13
14
15
16
17
18
19
20
21
22
23
24
25
26
27
28
29
30
31

June, 2022
Su
Mo
Tu
We
Th
Fr
Sa
1
2
3
4
5
6
7
8
9
10
11
12
13
14
15
16
17
18
19
20
21
22
23
24
25
26
27
28
29
30

July, 2022
Su
Mo
Tu
We
Th
Fr
Sa
1
2
3
4
5
6
7
8
9
10
11
12
13
14
15
16
17
18
19
20
21
22
23
24
25
26
27
28
29
30
31

August, 2022
Su
Mo
Tu
We
Th
Fr
Sa
1
2
3
4
5
6
7
8
9
10
11
12
13
14
15
16
17
18
19
20
21
22
23
24
25
26
27
28
29
30
31
September, 2022
Su
Mo
Tu
We
Th
Fr
Sa
1
2
3
4
5
6
7
8
9
10
11
12
13
14
15
16
17
18
19
20
21
22
23
24
25
26
27
28
29
30

October, 2022
Su
Mo
Tu
We
Th
Fr
Sa
1
2
3
4
5
6
7
8
9
10
11
12
13
14
15
16
17
18
19
20
21
22
23
24
25
26
27
28
29
30
31

November, 2022
Su
Mo
Tu
We
Th
Fr
Sa
1
2
3
4
5
6
7
8
9
10
11
12
13
14
15
16
17
18
19
20
21
22
23
24
25
26
27
28
29
30

December, 2022
Su
Mo
Tu
We
Th
Fr
Sa
1
2
3
4
5
6
7
8
9
10
11
12
13
14
15
16
17
18
19
20
21
22
23
24
25
26
27
28
29
30
31
Contact Details - Preferred option listed first



Note: Disclaimer
For Rental Enquiries - Email the owner.. Click here. (NB. You need to have popups enabled to use this)
Fax No. 01244 681223 in United Kingdom
Features


Air Conditioning
Communal Swimming Pool
Private Swimming Pool
Satellite or Cable Television
Stereo System
Television
Washing Machine



Activities


Culture - Museums, Historic Sites
Night Life, Theatres, Restaurants
Outdoor Activities - Walks, Lakes, Woods
Seaside - Close to beaches
Wilderness - Mountains, River Gorges



Restrictions






Owner's Links



End of Links
---