Property Details


Villa Sirena, located in borders of Aegean coast town Foca. With a 36sq mt(387 sq ft) private pool. Newly built 380sq mt(4088 sq ft), made of stone. 5 rooms, 10 sleeps, 3 bathrooms. Horizontal sea view is from terrace. villa is on a 7000 sq mt (1.7 acres)land. there are lots of different fruit trees and vineyard. there is a little mountain back the garden. You can lay down a pear tree near the swimming pool.
sleeping :The villa comprises 5 bedrooms in total; 2 double, 3 twin. . This gives room for up to 10 people. Bed linen and towels are provided for your use. general :The villa has 3 bathrooms and 3 WCs for your party's use. Air-conditioning keeps the villa cool. entertainment :The villa has television satellite/cable. The music system will play cds, radio. If you need to keep in contact there is a telephone for incoming and outgoing calls. eating & living :There is room for 10 in the living room and 10 in the dining room. To prepare food you will find a cooker, an oven, a microwave, a fridge, a kettle. You will also find a dish washer, a washing machine, an iron and ironing board. The owner has also provided cutlery, glassware.


Area Details


History of FOCA : With two symbols, rooster and seal, Foca is an authentic town of Izmir with an integration of
mythology, archeology, history, nature and urbanism.
Foca is one of the 12 Ionian cities established by Ionians fleeing to Aegean coast from the Dor invasion at Greece. Being a mythological settlement, Foca is also mentioned in the epics of Homer. The value of Foca is further enhanced by Siren Rocks, Devil's Baths, Stone House (Monumental Tomb), Five Gates, (Genoese) Castle, Outer Castle belonging to Ottoman era, Fatih Mosque, Kayalar Mosque, Hafız S?n Mosque, Ottoman Cemetery, and civil structures carrying the characteristics of Aegean architecture.
Foca, owing its antic name of Phokaia to seals, was an important port and marine power at its time. Starting with 7th century BC, the city of Phokaia has developed rapidly, and according to Herodotus, the father of history, has made great leaps in maritime trading.
Phokaians are the first Helens going to long sea journeys using fast ships with 50 oars and a capacity of 500 passengers. They have introduced Adriatic, Etruria, Iberia, and Tartessos to Helen world. With the aid of their fleet, Phokaians have colonized Alain at Corsica, Velia near Postum, Marseilles and the eastern coasts of Spain. Foca has lived through the eras of Persians, Alexander the Great, Genoese and Ottomans.


Travel Details


The villa is 60 min from izmir airport airport.
45 min from izmir city center.
15 min from foca town (seaside).
15 min from y.foca town (seaside).
5 min from bagarasi town.
Izmir-Foca Bus-way is 5 min.'s walk to Villa.

Gallery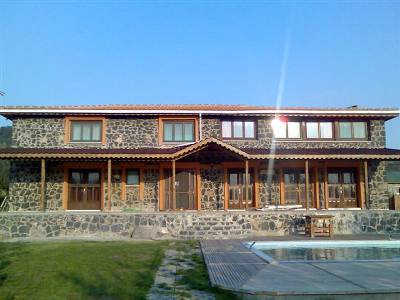 Location
The marker is an accurate indicator of the property location.