Property Details


This lovely brand new, well presented villa has a private infinity pool & stunning panoramic sea and mountain views from the terrace living room and all the bed rooms. Located in an elevated position, in a mature garden setting on the lagoon side of the exclusive Kas Peninsula Villa Irina, which is furnished in contemporary style with eclectic touches, is within easy walking distance of the beautifully located Akropol Restaurant and bar, local swimming platforms and just a few minutes drive from the Dolphin therapy centre, the small peninsula beaches and the upmarket and slightly bohemian resort of Kas with itís many excellent bars, restaurants, & boutiques.. The Villa accommodates six adults and 1 child.


Area Details


Regional Information
The charming and friendly resort of Kas is just a 1/2hr drive from Kalkan, along one of the most dramatic and beautiful coastal roads in the Mediterranean. Cradled by the Taurus Mountains, with over 300 days of sunshine, very low humidity, and warm crystal clear unpolluted sea, modern day Kas, with its cobbled streets, is built on the ancient site of Antiphellos. An up-market resort with international appeal, that attracts professionals, artists, writers, and the yachting fraternity, Kas is open all year round. It has 2 marinas, has 13 diving schools, and many excellent restaurants, bars, and antique, jewellery, carpet and designer clothes shops. However, Kas is much more than just a resort, with a resident population of 8,000 people, it services the banking and legal needs of the region. It also boasts its own small hospital, school, and some excellent multi-lingual doctors and dentists. With its own amphitheatre, and close to numerous historic, and un-spoilt areas of undeniable natural beauty, Kas offers an excellent quality of life and is an ideal location for a holiday in the sun.


Travel Details


There is an 1/2 hourly dolmus(local bus) service that runs in and out of Kas from the Peninsula from about 06.00hrs -24.00hrs in the season. Kas also has taxi services avilable for those who do not wish to hire a car or take a dolmus. Kas also has a bus station.

Gallery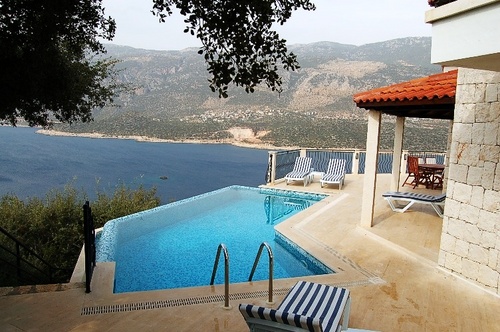 Location
The marker is a close indicator to the property location.
| | |
| --- | --- |
| Powered by google maps. Google maps of rental properties needs Javascript enabled | Overview google map. |
Click on the map below for a larger map of the area


Kas Peninsula,Antalya,7580,Turkey

Pricing details



The following rates are per Week
The rates are per Per Villa, per week
From
Upto
&nbsp
Charging Rate
&nbsp
British Pounds
US Dollars
Euros
01 Oct 2016
31 Oct 2016
799
975
879
01 Nov 2016
14 Dec 2016
690
842
759
15 Dec 2016
08 Jan 2017
1100
1342
1210
09 Jan 2017
31 Mar 2017
690
842
759
01 Apr 2017
30 Apr 2017
770
939
847
01 May 2017
31 May 2017
799
975
879
01 Jun 2017
30 Jun 2017
1100
1342
1210
01 Jul 2017
31 Aug 2017
1250
1525
1375
01 Sep 2017
30 Sep 2017
1100
1342
1210
01 Oct 2017
31 Oct 2017
790
964
869
01 Nov 2017
14 Dec 2017
690
842
759
15 Dec 2017
08 Jan 2018
1100
1342
1210



Price Includes:-

Price includes all utillities
Free wireless connection
The provision of all bedlinen and bathtowels
Weekly cleaning and linen and towel change
Pool cleaning
Welcome pack on arrival



Price Excludes:-

Car rental
Airport transfers
Flights.



Other Information:-

Discounts may be available fro 2 person occupancy on selected dates.
Availability Details

<-- For Full Detailed Calendar with Larger Text click the image
Last Updated on 2019-Jul-06
August, 2019
Su
Mo
Tu
We
Th
Fr
Sa
1
2
3
4
5
6
7
8
9
10
11
12
13
14
15
16
17
18
19
20
21
22
23
24
25
26
27
28
29
30
31

September, 2019
Su
Mo
Tu
We
Th
Fr
Sa
1
2
3
4
5
6
7
8
9
10
11
12
13
14
15
16
17
18
19
20
21
22
23
24
25
26
27
28
29
30

October, 2019
Su
Mo
Tu
We
Th
Fr
Sa
1
2
3
4
5
6
7
8
9
10
11
12
13
14
15
16
17
18
19
20
21
22
23
24
25
26
27
28
29
30
31

November, 2019
Su
Mo
Tu
We
Th
Fr
Sa
1
2
3
4
5
6
7
8
9
10
11
12
13
14
15
16
17
18
19
20
21
22
23
24
25
26
27
28
29
30
December, 2019
Su
Mo
Tu
We
Th
Fr
Sa
1
2
3
4
5
6
7
8
9
10
11
12
13
14
15
16
17
18
19
20
21
22
23
24
25
26
27
28
29
30
31

January, 2020
Su
Mo
Tu
We
Th
Fr
Sa
1
2
3
4
5
6
7
8
9
10
11
12
13
14
15
16
17
18
19
20
21
22
23
24
25
26
27
28
29
30
31

February, 2020
Su
Mo
Tu
We
Th
Fr
Sa
1
2
3
4
5
6
7
8
9
10
11
12
13
14
15
16
17
18
19
20
21
22
23
24
25
26
27
28
29

March, 2020
Su
Mo
Tu
We
Th
Fr
Sa
1
2
3
4
5
6
7
8
9
10
11
12
13
14
15
16
17
18
19
20
21
22
23
24
25
26
27
28
29
30
31
Contact Details - Preferred option listed first



Note: Disclaimer
For Rental Enquiries - Email the owner.. Click here. (NB. You need to have popups enabled to use this)
Tel No. Guy Webb at 0044(0) 117 962 0473 in United Kingdom - Please Quote Reference:Villa Vacations -13017
Languages spoken: English
Between 9 and 20 in United Kingdom time
Alternate Tel No. Guy Webb at +44[0]7984 465916
Fax No. +44[0]117 962 0473 in United Kingdom
Other Properties


Click here to see other properties owned/managed by this advertisor
Features


Air Conditioning
Dishwasher
DVD Player
Private Swimming Pool
Television
Washing Machine



Activities


Activity - Tennis, Golf, Pools
Culture - Museums, Historic Sites
Night Life, Theatres, Restaurants
Outdoor Activities - Walks, Lakes, Woods
Seaside - Close to beaches



Restrictions


No Pets
No Smokers



Owner's Links


Click Here for more information about this property
End of Links
---