Property Details


This beautiful detached four bedroom villa enjoys one of the most desirable locations in Altinkum. Just 5 minutes walk from a private beach with its own bar/restaurant.

Altinkum with its golden sandy beaches is on the south west coast of Turkey and hour and half from Bodrum.

This luxury villa was built in July 2005 and consists of a spacious open plan kitchen living area with large french doors that open onto the garden and a private 32 sq metre swimming pool, four double bedrooms - two with balconies, bathroom with Jacuzzi bath and two wet rooms.

The bedrooms are all large doubles with two of them having balconies, one in the turret (which is very unique) and one on the ground floor. This villa has character and is a very unique design,

There is a fully equipped kitchen with dishwasher, washing machine, microwave, fridge and cooker. The villa is also equipped with satellite Sky TV, iron, ironing board, airier, hairdryer, towels, bedding and mirrors in all bedrooms.

The area is very peaceful and quiet but if you walk to the top of the street you can catch the minibus into Altinkum, which is a 5 minute bus ride away and is a large town with beaches, bars, restaurants and shops.

The villa is on a private estate that has its own private beach and bar restaurant. The area is peaceful with the added attraction of only being 10 minutes from Altinkum town giving you the best of both worlds

A car is not essential as there are various options for getting around. Firstly there is the private beach with bar/restaurant and is only a 2 minute walk away. The restaurant will deliver food to the villa if required. There is a dolmus (bus) that runs every 15 mins to Altinkum which is only 7 mins away, in Altinkum you will find everything from shops, restaurants, bars and night clubs.


Area Details


ALTINKUM - The friendly beach resort of Altinkum is located on the north of the Bodrum Peninsula. The name of Altinkum translated means "Golden Sand" - what an appropriate name! There are 3 main beaches in the resort. They all slope gently and are very safe for families with children. The main beach curves round the beautiful Altinkum Bay creating two further beaches at either end of the town. You can lie and soak up the sun on a sun bed or stay cool under an umbrella, both of which are in plentiful supply and at a reasonable cost. There are a wide variety of water sports located at the end of main beach including, Jet Skis, Water skiing, Windsurfing, Banana Boat Ride, and, for those who think that holidays should be at a more sedate pace, Pedalos. The quietest of the three beaches is "Third Beach" which offers a quieter environment and its waters are clear and sparkling.

SHOPS - The main resort shopping centre is Dolphin Square, near the centre of the resort front. There are also a large number of shops on the seafront. All the shops are open late at night when the area becomes its liveliest. This is your opportunity to pick up a real bargain, especially if you are good at haggling! If you fancy designer clothes but can't normally afford them then many good copy designer items are on sale. If you are looking for jewelry then you will find that the quality of the gold here is excellent with the prices much cheaper than in England.
When shopping for provisions, there are two main supermarkets -Carrefour and MIGROS, which caters for most people's tastes, having a wide variety of well-known food, toiletries and kitchen goods. Carrefour is located between the seafront and the town centre and Migros at the start of the town centre.

RESTAURANTS - There is a great selection of restaurants to choose from in Altinkum - from fantastic Turkish dishes to traditional English food. However, most international cuisine is catered for here. Most prices are shown in Sterling and many restaurants and shops are happy to accept payment in Sterling. There are numerous bars where you can sit and just watch the world go by. If you fancy a boogie, there are several discos and in the height of the season the resort is very lively. You will find many bars serving snacks, all reasonably priced, throughout the day.
Most restaurants in Altinkum run a free pick up and drop off service if you are using their restaurant.

NIGHTLIFE - Altinkum literally comes to life between April and October with bars, pubs and clubs many of which are overlooking the sea. There is a variety of nightlife and entertainment to choose from ranging from lively bars, clubs to the quieter, relaxed restaurants and bars. The quieter ones are in one of the back streets with the livelier ones by the harbor or Dolphin Square.


Travel Details


The dolmus in to Altinkum town stops at the top of the street and runs approximately every 15 mins.

Gallery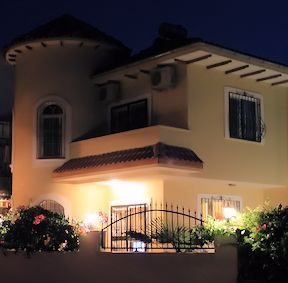 Location
The marker is an accurate indicator of the property location.