Property Details


VILLA TESHIR is a modern, spacious villa set against the magnificent backdrop of the Taurus mountains with superb and unobstructed panoramic views over the sea and Kalkan bay. The name means 'bewitching / enchanting' and it more than lives up to its name being a wonderful mix of traditional elegance and modern luxury. Villa Teshir (now being privately rented for the first time) was completed in 2004 and was first used by TAPESTRY HOLIDAYS, who featured it as: "...another quality Tapestry villa ...." and "..... a most welcome addition to our villa programme.....". This charming and exceptional villa is ideal for families and for discerning couples travelling together who appreciate the luxury of their own space and enjoy the privacy of their own pool. The villa is tastefully furnished; air-conditioned throughout with a modern fully fitted kitchen, and enjoys a large veranda, wooden pergolas and inlaid marble floors throughout. Sleeps six in comfort with en-suite bedrooms and is in one of the best locations in Kalkan,set in a quiet residential area of luxury villas, and being a 10 minute walk to the village and a few minutes more to the harbour and beach.

Further details indoors:
Fully air-conditioned throughout, this exceptional villa briefly comprises: * Large central hallway separating sitting room and kitchen /dining area each with superb views and individual french doors to the terrace * Stylishly furnished sitting room includes sofa/day bed * Modern fully fitted kitchen with ample equipment * Iron and ironing board * Generous dining area * Separate ground floor WC * Beautiful curved balustraded marble staircase leads to first floor landing * Spacious centrepiece veranda with breathtaking views * Two equal sized bedrooms, one double, one twin-bedded, both with seaviews and with en-suite shower/ wc / hairdriers / fitted bedroom furniture * Inlaid marble flooring throughout * Radio/CD player * Security box provided * Fire extinguisher and smoke detectors fitted

Further details outdoors:
Outside comprises: Large private freshwater pool 6.7mx5.5mx1.7m deep (no shallow end) * Tiled terraced areas with sunloungers / chairs / parasols * Shaded pergolas / alfresco dining area * BBQ and gardens * Parking space, but car not necessary as the village centre and most amenities are a short stroll away.


Area Details


THE LYCIAN COASTLINE is an area of extraordinary beauty. There is nothing quite like this piece of coastline as the coastal road twists and turns and the hidden treasure of Kalkan appears. The broad, open Mediterranean in the bay below is such a beautiful azure blue, it has a truly mesmerizing effect as nature unfolds in front of you. The area offers the visitor plenty of activities, both on and off the water, and a variety of places of interest to visit, whether your particular interests are steeped in history; enjoying the regions outstanding natural beauty; or just relaxing, there is something for everyone . For further info see: www.kalkanturkey.com or www.kalkan.org.tr

KALKAN, the jewel of the 'Turquoise Coast', is an idyllic fishing village with a charming marina where modern yachts mix with traditional fishing boats and gullets in a postcard pretty setting, where peace and tranquillity are guaranteed. The cobbled streets have that special ambience of old world charm and retain their lovely, traditional Turkish character. Kalkan offers an extensive range of delightful and atmospheric restaurants, from the relaxed simplicity of local home cooking, to the sophistication of the fabulous harbour-side and rooftop restaurants. There are supermarkets (offering delivery service), butchers, bakers etc. We never tire of meandering through the pretty streets leading to the harbour with their wide range of local crafts, antiques and fashionable jewellery and clothing shops. There is also a bank for money exchange and an ATM machine for local cash.

GUEST BOOK

Villa Teshir was first used by TAPESTRY HOLIDAYS, who featured it as: "...another quality Tapestry villa ...." and "..... a most welcome addition to our villa programme.....".

REVIEW: submitted by Maria, Phil and Rachel from Brackley (Submitted: 17/09/2008 )
"The photos on the website really do match the experience and we found the villa a real haven with the ample terraces and wonderful pool. The walk to town was a little more than wed expected due the number of hills, but worth it and we soon found the taxi service to be an excellent way of getting around. Nothing quite prepares you for the choice of restaurants or the quality of the food. A wonderful 2 weeks and wed be happy to go back. Ray and Gill organised the airport taxi transfers for us and all the arrangements were faultless. Helen, the local manager, was on hand too and it all added up to making this a perfect choice of holiday for us."
Value: Excellent , Met expectations: Exceeded them , Recommend: Definitely , Overall: Excellent

REVIEW: submitted by Tilly from Lincoln, England (Submitted: 15/09/2008 )
"The Villa was absolutely outstanding! and the views....well, breathtaking is an understatement! Mountains as a backdro p, the beautiful harbour below, it was an absolute dream! It was like living in the lap of luxury for 2 weeks with air conditioning being an added bonus!! Only 10 minutes walk from the town centre too so everything was just perfect, thank you for letting us stay in your lovely home :)"
Value: Excellent , Met expectations: Exceeded them , Recommend: Definitely , Overall: Excellent

REVIEW: submitted by Anna from London (Submitted: 04/08/2008 )
"Fantastic villa in excellent location - easy walking distance to the centre of Kalkan, but in a very tranquil setting with amazing views over the bay. The villa is very well-equipped with a good size pool. The comfortable surroundings of the villa and pool meant that our good intentions to explore the local area were abandoned in favour of relaxing by the pool and occassionally wandering into Kalkan for an iced coffee! Very highly recommended."
Value: Excellent , Met expectations: Exceeded them , Recommend: Definitely , Overall: Excellent

REVIEW: submitted by PETER from LOUGHBOROUGH (Submitted: 23/07/2008 )
"THE VILLA AND POOL ARE EXCELLENT WITH WONDERFUL VIEWS OVER KALKAN BAY AND VILLAGE THIS WAS OUR SECOND VISIT TO THE VILLA AND I WOULD HIGHLY RECOMMEND IT"
Value: Excellent , Met expectations: Exceeded them , Recommend: Definitely , Overall: Excellent

REVIEW: submitted by Rachel from Stratford-on-Avon.(31/5/2008)
"Lovely property in a location with views to die for. Villa well equipped and air conditionning a blessing. Local manager very helpful and had provided a good selection of basic staples in the fridge on arrival. We had a lovely stay. Weather hot and sunny (late May). Owner communication before the trip was excellent. Would recommend for friends!"

REVIEW: submitted by Lyn and Ray from Notts.(28/5/2008)
Hi Ray and Gill
we had a lovely time - many thanks - your villa is very well equipped to make for a very comfortable stay. Helen was extremely helpful - there with advice when we needed it but also discreetly not bothering us when we wanted to be on our own.
Thanks again
Lyn and Ray from Notts.

REVIEW: submitted by Dave & Debbie from Hereford (15/4/2008))
"Hi Ray & Gill, the 2 weeks we spent at your wonderful villa were fantastic. Views were stunning, the local people were very warm and friendly, and Helen, your villa manager couldn't have been more helpful. The fact that the 2 weeks we spent was our honeymoon just rounded off our wedding perfectly. The local restaurants were very good and there were lots of tours etc to keep us occupied. Definitely one to visit again !!
Dave & Deb from Hereford"

REVIEW: submitted by Alex & Jan from Leigh-on-sea (11/11/2007)
"Hi Ray & Gill,
Thank you so much for the use of your truly amazing quality villa. Its a great sanctuary for re-charging ones' batteries. Enjoyed everything, even to the choice of CDs!! We had a memorable day on an exclusive boat trip and obtained a bargain or two in the local market. Helen your agent was very helpful & friendly too!
Alex & Jan Gell Leigh-on-sea"

REVIEW: submitted by Pat & Barry from Cheshire(11/11/2007)
Hello Ray and Gill,
Pat and I have just returned from our holiday in Turkey and wanted to let you know how much we, and our friends, enjoyed our two week's stay at your villa in Kalkan. The villa is lovely and we enjoyed many a relaxing hour around the pool, BBQ etc. Also, Helen,your local manager was most welcoming, friendly and very helpful and quick to sort out any problems. Thanks to both yourselves and Helen for sorting out our 40th wedding anniversary present of flowers and wine from our son, Ian and his girlfriend Nicky. It was a lovely surprise and very much appreciated.
All the very best, Pat and Barry Fish.

REVIEW: submitted by David from Stroud (18/9/2007)
"Villa Teshir is comfortable, clean, spacious and well equipped. The views are stunning. The pool was kept very clean and well maintained. Both the owners and the local agent were friendly and helpful throughout our booking process and our stay. Overall, we had a really relaxing and enjoyable stay, and we would very much like to return."

REVIEW: submitted by Ian from Camberley (12/09/2007)
"Excellent villa with good-sized pool and patio area, all the facilities we needed and wonderful views. Also within reasonable walking distance of the centre of Kalkan with its numerous restaurants. Airport transfer arrangements made by villa owner's rep all went very smoothly."

REVIEW: submitted by Darran from shillington (05/09/2007)
"The villa is well appointed with just the most beautiful views of Kalkan bay. Evenings on the veranda with a glass of wine was so enjoyable, the pictures on the web do not do it justice. The position would not suit those unable/unwilling to walk up/down steep hills, but even with two kids ( 9yrs and 10yrs) we did not find it a problem. Our holiday at Villa Teshir was the best holiday we have had as a family and this was in no short measure due to the excellent accommodation this villa provides. Overall I would give Villa Teshir 9 out of 10 and am definitely hoping to return to Kalkan very soon and am even considering buying a property. Kalkan is a fantastic family holiday resort and Villa Teshir is a lovely villa in which to stay."

REVIEW: submitted by Andrea (30/07/2007)
"Hi Ray & Gill, Our feet are just coming back to the ground. We had a wonderful time in your beautiful villa, we loved the more traditional architecture of Teshir and had a fantastic relaxing week of sun sea and sand. You can't capture on film how fantastic the views are. I hope they are uninterrupted for years to come. The Villa is very well stocked, we especially enjoyed the binoculars, and my children your selection of DVDs when I wouldn't let them in the midday sun. The local restaurants were great, especially the wonderfully Turkish Belgin's Kitchen in the old town. I spoke to you about the dolphins and the centre which specialises in Autistic Therapy on the Kas peninsular, and although prices for ordinary tourists are prohibitive, as we were there we were committed and it was an amazing experience for our daughter especially. It was great to meet Helen your manager, who was brilliant and attended to all our needs very promptly. Thank you for sharing your lovely home. Hope to visit again in cooler weather so we can explore all the ruins!
Kind regards Andrea Lightfoot and family

REVIEW: submitted by peter from loughborough ( 24/07/2007)
"THE VILLA MORE THAN LIVED UP TO OUR EXPECTATIONS THE VIEWS FROM THE VILLA WERE SPECTACULAR THE ORGANISATION TERRIFIC THANKS TO HELEN AND ELLE(THE DOG) AND A SPECIAL THANKS TO MR & MRS ASTON FOR LETTING US STAY AT THEIR LOVELY VILLA"

REVIEW: submitted by Elaine from Gloucester (05/06/2007)
"Dear Ray & Gill, I feel that we just have to let you know what a fantastic holiday we had in your wonderful villa. We feel that we have found a true piece of 'Turkish Delight' !! The views really are glorious and unspoilt, and just as you describe them - which, given the modern tendancy to 'overstatement' in adverts, was an honest and refreshing change.!! The villa itself is lovely, and the terrace area really is extensive. We feel the photos on your web site, although excellent, do not do justice to or convey the actual size and quality of your home. I liked being able to take myself off for a read in a quiet corner, whilst other party members could enjoy the pool area.

Kalkan and the local area is beautiful, but I'm afraid we were only too easily seduced into staying-put by the relaxing atmosphere of 'your home', the pool and the great views. However, we did manage the pleasant short stroll to stock up on essentials and again in the evening to sample the excellent restaurants and varied food on offer in what is a delightful and picturesque coastal village. The only mistake we made was in booking for 1 week, something we are going to rectify next year when we book a fortnight with you. Thanks again for a memorable holiday & see you next year
Regards Alastair and Elaine Incher - Gloucester"

REVIEW: submitted by nicole (04/09/2006)
"Dear Ray and Gill John and I would like to thank you profusely for the use of your villa. I have never fallen in love with any place as much as I have with Kalkan. For the first time in my life I cried coming home I just did not want to leave. The view from the villa is breathtaking and one I would never tire of. Some days we just didn?t leave but hung out all day by your fabulous pool and in the evening cooking fresh fish on the Barbie (pure bliss) Helen was also fantastic how lucky to have someone as wonderful as her as your manager. In fact by the end of our last week we were out with her looking for a property of our own to buy. We have some friends planning a trip to Kalkan next summer and we can?t recommend Villa Teshir enough So once again thank you for making our holiday one of the best I have ever had. Nicole Northridge"

REVIEW: submitted by Alan from Solihull (15/08/2006)
"Hi Ray & Gill, Just to let you know that we had a wonderful holiday in Kalkan, so wonderful that as you know we have already booked Villa Teshir for next year. The villa was beautiful and extremely clean. The views from the terrace and balcony were breathtaking. Helen was extremely helpful and easily reached if we needed anything. Kalkan is a lovely place. The people are really friendly and there are so many fantastic restaurants that we really need to return next year to try a few more. Thanks for all your help and advice. Angela, Alan, Stacey & Ben from Solihull "

REVIEW: submitted by Denise from Lancashire ( 25/07/2006)
"The villa was everything and more than we expected. We had a lovely, relaxing holiday. The pool and the area around the pool was cleaned twice daily. The views were fantastic and the villa was very spacious. "

REVIEW: submitted by Becca (13/06/2006)
Hi Ray, Just wanted to say what a lovely villa you have. It is gorgeous in every way, the stone floor, the views, the lovely terrace and furnishings. It is a great design in Turkish tradition and so much more interesting than most of the usual bland villa architecture. I would love to stay there again some time.
Best wishes Becca

REVIEW: submitted by Shirlene from Reading UK (11/10/2005)
"Hi Ray and Gill, Hope you are both well. We just wanted to thank you both for letting us use your wonderful villa. We had the most amazing and memorable time and will never forget it. The Villa was amazing and gorgeous, had everything we needed and Helen was so helpful. Kalkan is a beautiful little village and we will definitely want to return again, it reminded us of Cape Town as my partner and I are from South Africa, so it felt like we were are home. Thank you once again for our most memorable stay.
Shirlene, Mike, Gill and Neil from Reading UK

REVIEW: submitted by Adam from Lewes, East Sussex (23/08/2005)
"Ray, A belated message thanking you for a great holiday. We really enjoyed our time in Kalkan. The villa was excellent and exceeded our expectations. All the transfers went smoothly despite our delayed flight and we found Helen helpful throughout our stay. A really attractive and comfortable villa with an excellent pool and unbeatable and spectacular views in a peaceful location."

REVIEW: submitted by Elsie from Milton Keynes. Bucks. (6/09/2005)
"A very welcoming villa, exceptionally clean throughout with comfortable modern furnishings made this a very enjoyable and relaxing place to be. The views are fantastic during both the day and evening. The pool was wonderful, very clean. Overall could not have wished for a better place to stay. Will definitely be booking up for next year."

REVIEW: submitted by Katharine (13/11/2005)
"Hi Ray, We had a fab holiday but it seems such along time ago! The villa was wonderful and this was the laziest holiday we've ever had! Hope the weather was as good for you as it was us. Will defintely recommend the villa to our friends..
Thank you
Best wishes
Katharine from Sandbach"

REVIEW: submitted by Christine (Submitted: 13/11/2005)
"Hi Ray Just to let you know we had a lovely holiday! Everything went really well, from the outbound flight and Suzuki jeep rental, to being delighted with the villa, the pool, and the fantastic views from the terrace.

We had a very enjoyable and relaxing holiday with a few adventures thrown in to keep us on our toes. We went to Saklikent and had a guide take us deep into the Gorge to about the farthest point we could go. We had lunch at Ebo's (short for Ibraheim - first rest. one on the left). He ended up coming rafting with us!! What a character!! We had such a laugh. He's asked us to send him some photos. Great day out!

We went sea kayaking over the sunken city of Kekova, booked through Bourgainville Travel in Kas. A day out on gulet, (the boat was called Romantik, I think). Excellent lunch, really good day out. We went to Xanthos and Letoon, both amazing sites, arriving early so we had the place to ourselves.....and the added advantage of beating the heat of the day. We went to Patara, and we loved Kaputas beach. We spent a few afternoons at the Kalamar Beach Club. Really nice place - the kids had a go on the jet ski, ringos and banana boat.

Everything went really well and we had a lovely time and were very impressed with the country, the people, the culture and we loved the food!. We'd certainly like to visit Turkey again.
Thank you for renting us your villa - we had a wonderful time.
With best wishes"
Christine, Chris, Joanna and Oliver from Henley


Travel Details


Taxis are by far the easiest means to get about locally and are very cheap. You can negotiate for prices to take you further afield

Dolmus buses can also transport you very cheaply to most locations, but obviously lack the convenience of taxis.

Car hire can also be obtained very easily locally. We can arrange delivery to the villa.

Gallery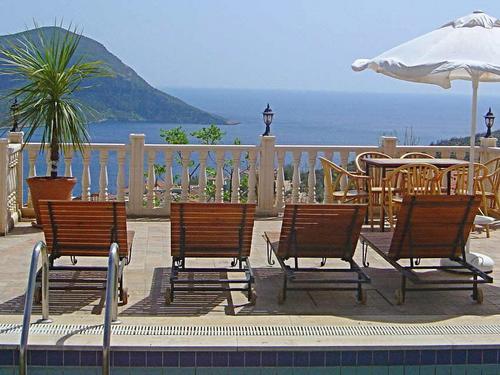 Location
The marker is an accurate indicator of the property location.